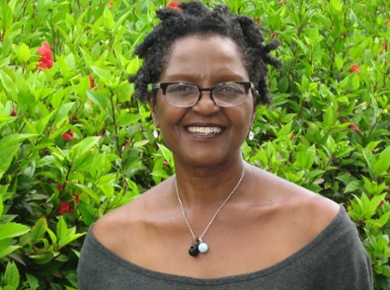 The University of the Virgin Islands has named Dr. Lorna Young-Wright the inaugural recipient of the Ann Elizabeth Richardson Distinguished Professor of Music Award. Dr. Young-Wright – a music professor at UVI for 29 years – was chosen for her years of excellence and dedicated service to the University. "I feel completely elated," Dr. Young-Wright said of being selected for the award. "The receipt of the award means that there is an appreciation for what we are doing at the University in the Music Department." 
 The University created the professorship award at the request of Gwendolyn E. Kean. Kean donated a gift from her estate and asked that UVI create a music professorship in her mother's name that would enhance music in the territory. As Distinguished Professor of Music, Dr. Young-Wright will serve as endowed chair for a term of two years. She will promote music excellence in the Virgin Islands.
She is hosting a musical recital series throughout UVI's fall semester. The first was held on Sept. 8, at the Nisky Moravian Church on St. Thomas. The inaugural recital was presented by Janice R. Jackson, soprano, and Dr. Young-Wright, pianist and composer. Works performed included those of William Grant Still, Undine Smith Moore, and Dr. Young-Wright. The recital was free. Dr. Young-Wright gave a pre-recital lecture on Sept. 7, in the Music Building on the St. Thomas campus.
 "Music education is important because of its transformative nature," said Dr. Young-Wright who is passionate about music and music education. "Music transforms us – participants and listeners alike – by providing an avenue whereby we are allowed to imagine, create and transcend. As an instructor, I attempt to encourage imaginative thought, creative activity, interpersonal sensitivity and robust laughter." At UVI, Dr. Young-Wright teaches piano and music theory, serves as chair of the Music Department, vice-chair of the Faculty Council, and chair of the Faculty Executive Committee. She holds a doctorate in musical arts from Michigan State University, a master's of music degree from the Johns Hopkins University's Peabody Conservatory of Music, and a Bachelors of Arts degree from Glassboro State College, now Rowan University.
Dr. Young-Wright has had a long musical journey. As a child she studied piano, violin, viola, violoncello, theory and composition. She studied at the Settlement Music School and played at the Moscow Conservatory of Music. She also had an orchestral debut as a soloist with the Glassboro State Community Orchestra. Dr. Young-Wright has performed piano throughout the Caribbean and served as a concert pianist, choral conductor, corroborating artist and composer in the United Kingdom, France, Germany, China and Switzerland. 
"I hope that when I am remembered it is related to my desire to produce a cadre of disciples committed to a personal and academic excellence that is reflected in the manner in which they embrace themselves and others in the world," said Dr. Young-Wright. "A manner that reflects a kind, peaceful and yet understanding knowledge that allows each one to enjoy a successful life."