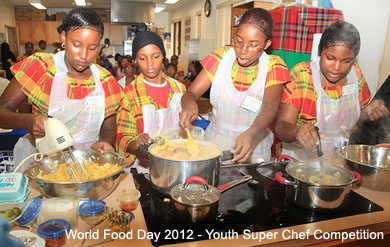 The 2013 edition of World Food Day is planned on the grounds of the University of the Virgin Islands' Albert A. Sheen Campus on St. Croix from noon to 6 p.m. on Sunday, Oct. 20. Organizers say last year's turnout was the largest in some time and they are hoping for between 500 and 800 participants this year. The World Food Day 2013 theme is "Sustainable Food Systems for Food Security and Nutrition.
While admission is traditionally free, visitors are asked to bring a non-perishable food item for the day's food drive. A pre-event food drive has already begun, with students at all St. Croix schools invited to make donations. All food collected is donated to local food banks.
World Food Day – officially celebrated this year on Oct. 16, but observed world-wide during the month – is an effort to bring attention to the plight of the hungry and undernourished in the territory and the world. UVI's event will be one of some 450 around the United States alone.
A major highlight of the local event will be the sixth-annual 4-H Youth Super Chef Competition, which brings out teams of junior and senior high school students competing to see which can produce the best meals using only provided ingredients. Student participants will represent the CES 4-H Club, three junior high schools – Good Hope Country Day, the Iqra Academy and St. Patrick's – and the St. Croix Career & Technical Education Center and St. Joseph's senior high schools.
Teams usually include about seven students each, with four designated as the primary cooks. Judges score the teams on how they work together and manage themselves. They also pose questions about the dishes, the origins of the foods used and their dietary qualities, such as vitamins and nutrients. "We encourage all the students to do some research to prepare for the judging," said Clarice Clarke of UVI's Cooperative Extension Service, which organizes the day along with the UVI Agricultural Experiment Station and the V.I. Department of Agriculture.
The day will also include a "Melon Spree Competition" and workshops focusing on avocados, cucurbits (a fruit in the melon family), butternut squash and aquaculture systems for the U.S. Virgin Islands. Workshop participants will get free samples of dishes featuring these crops. Free vegetable seedlings will also be distributed.
A court for food vendors, a farmer's market and petting zoo for children, as always, are expected to be major attractions. Tours of UVI's Agricultural Experiment Station field facilities will also be offered. Entertainment will feature music by the Rising Stars Youth Steel Orchestra, the UVI Albert Sheen Campus Band and DJ Porter. Performances are planned by the Guardians of Culture moko jumbies and St. Croix Martial Arts.
Clarke also noted another popular pre-food day event – a Hunger Fair including a Hunger Banquet – is again being organized on the Sheen Campus. Some 130 students from the St. Croix Christian Academy, and Ricardo Richards and Eulalie Rivera schools will tour displays featuring poverty-stricken countries around the world at UVI's Great Hall at 9 a.m. on Wednesday, Oct. 16. They will also take part in a Hunger Banquet, which is designed to provide a real-life simulation of issues and challenges surrounding hunger, poverty and equitable food distribution. Participants will be randomly assigned as wealthy, middle class or lowest income.
The "wealthy" will enjoy a full meal in a fine-dining setting, the "middle class" will get a meager buffet-type meal and those in the "lowest income" group, representing more than half the world's population, will, if lucky, receive a scoop of rice and some water, according to Clarke. Banquet participants will then share their comments and responses to the experience. "It's designed to help students become cognizant of what people in our own community experience, and what we can do to help," Clarke said.
World Food Day is sponsored by UVI's Cooperative Extension Service, the UVI Agricultural Experiment Station and the V.I. Department of Agriculture. Participating sponsors are Plaza Extra and Home Depot. For more information, call Clarice Clarke at (340) 692-4060.