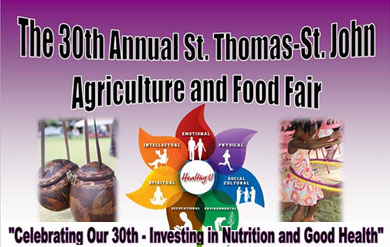 Produce and livestock, along with a wide variety of arts and crafts, will be the focus of the St. Thomas/St. John Agriculture and Food Fair, scheduled for 10 a.m. to 6 p.m., on Saturday, Nov. 16, and Sunday, Nov. 17. The fair takes place on the grounds of UVI's Reichhold Center for the Arts on St. Thomas. This year's theme is "Celebrating our 30th – Investing in Nutrition and Good Health."
The opening ceremony of the fair, set for 2 p.m. on Saturday, will be emceed by UVI alumnus and local radio personality Sheldon Turnbull. V.I. Department of Agriculture Commissioner Dr. Louis Petersen, Jr. and UVI President Dr. David Hall will also make remarks during the ceremony.
The UVI Cooperative Extension Service 4-H Program will conduct a food drive on both days. Attendees are encouraged to bring canned and dried food items to contribute. Food collected will be donated to Catholic Charities and the Salvation Army.
Along with the usual delights of fresh produce, plants, and arts and crafts, food will be on sale. This year contestants are still being sought for the best tasting maubi and sweet bread competitions. For the second time, a coal pot lighting contest is planned. It will present entertaining cultural and historical perspective, while in another competition young people will be invited to show their prowess at current technology in a texting contest.
Informational displays on composting workshops and tree grafting demonstrations are also planned. A livestock area – always a big hit with young and old alike – will feature some of the territory's prized and unique animals.
Entertainment will include music by DJ Ubba, 4th Dimension Gospel Band and Ah We Band. Dancing performances are planned by the St. Thomas Heritage Dancers and the Holy Family Cultural Dancers. Children's games will be held daily from 12:30 to 5 p.m.
Admission is $3 for adults and $1 for children under 12 years.
The St. Thomas/St. John Agriculture and Food Fair is sponsored by the University of the Virgin Islands Cooperative Extension Service (CES) and the Virgin Islands Department of Agriculture, with support from Fintrac.
For more information contact the CES office at (340) 693-1080. For the latest updates, check out the 2013 Ag and Food Fair entries on the UVICES Facebook page: https://www.facebook.com/uvices.