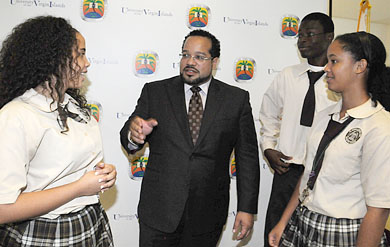 Dale LeFebvre, founder and chairman of Oson VI, LLC, a management, consulting and investment advisory firm, presented a $250,000 check to the University of the Virgin Islands on Tuesday, Dec. 3, on the St. Thomas Campus. LeFebvre established the LeFebvre Endowed Student Fellowship Award and the Oson VI, LLC Endowed Fund for Recruitment and Retention. The gift also funds two SAT preparatory programs at UVI. It is the third largest endowed gift received by UVI during the past four years. In a surprise announcement, LeFebvre pledged an additional $100,000 donation to the University – for a total of $350,000. 
"I'd like to work to have other EDC Companies match what we're doing," said LeFebvre. "This is my home."  In brief remarks, LeFebvre credited the PSAT with fast tracking him into a program for high school students at the Massachusetts Institute of Technology (MIT), where he earned a Bachelor of Science in electrical engineering. He also earned a master's in Business Administration from Harvard Business School and a Juris Doctorate from Harvard Law School. "We stand as a witness to the tremendous growth and potential of the University," said LeFebvre. "We discussed internally and with the University what their needs were and what kind of impact we could have.  We could not be more pleased with the outcome."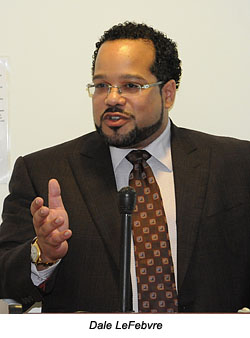 Gov. John P. deJongh, Jr., Sen. Clifford Graham, Economic Development Commission Chief Executive Officer Percival E. Clouden, UVI President Dr. David Hall and UVI Interim Provost Camille McKayle were present at Tuesday's check presentation.
"Thank you for not just giving to a great university on a tremendous path, but really for what you represent to a lot of young people," said Gov. deJongh. "Through ambition, tenacity and the willingness to get ahead and still give back to your community, it is all possible."
"I want to thank you for your investment in the territory by investing in the University because we deeply believe that as UVI moves forward this territory moves forward," said UVI President Dr. Hall. "Education is the transformative engine of society. Without higher education then we can't address our economic, political and social issues. The investment that you're making will touch every aspect of a student's development and that is what we really need." Dr. Hall said, "The University is on a pathway to greatness. We believe that though we are doing great things by producing outstanding alumni, by attracting outstanding faculty, that there is still another level that we must reach.  We will never reach that level without the support of individual donors." Dr. Hall continued, "The true difference makers in an institution's attempt to move from being good to great are individual donors who are willing to say this University is worth my resources because I believe in what they are doing."
The LeFebvre Endowed Award was created with a $100,000 donation. This endowment will provide annual scholarship support and transportation stipends for a sophomore and junior accounting student each year they attend UVI. In an effort to promote real-world experience and career preparation, award recipients could qualify for employment opportunities at Oson VI, LLC or another financial services company operating in the territory. As the endowed fund grows, the award will incrementally provide scholarships and stipends for additional students within UVI's accounting program.
The Oson VI, LLC Endowed Fund for Recruitment and Retention was created with a $100,000 donation. This endowed fund will assist the University with its efforts to engage underserved and promising students throughout the territory. The endowment will fund key University programs that have proven successful in recruiting and retaining students such as the University Bound and the UVI Entrepreneur Business Institute. Both endowments were established at the Foundation for the University of the Virgin Islands.
LeFebvre also wanted $25,000 of his donation to be used for SAT Preparatory Programs administered by University Bound's College and Career Readiness Initiative and UVI's 2014 Community Engagement and Lifelong Learning Center (CELL) SAT Prep Summer Program. University Bound will receive $15,757.47 and UVI CELL's 2014 SAT program will receive $9,242.53. Virgin Islands high school students will be afforded opportunities to participate in rigorous online SAT Prep Programs that aim to increase SAT test scores and stimulate interest in attending and excelling in post-secondary education. Program instruction will be delivered by credentialed instructors. The funds used by the SAT Programs will cover stipends, program costs and administrative cost.
The remaining $25,000 donation will be placed in a Temporary Reserve Fund at UVI. The account will hold this contribution until it is designated on or by Dec. 30. If the fund has not been allocated to a specific UVI program by the deadline, the funds will be directed to the LeFebvre Endowed Student Fellowship Award.
"It's with companies and the commitments of the owners of these companies, like Dale, that this territory will make the appropriate advancements in education, employment and otherwise," said Clouden. "I congratulate you on your giving a donation and we anticipate more companies following in your footsteps."
"Today is not just about a check," said UVI Vice President for Institutional Advancement Dionne Jackson.  "It's about the spirit and generosity of an individual who is taking time to help others get the education and substantive experiences that they themselves need to succeed. For this it is an honor and a privilege to count Dale as one of our newest partners and stakeholders."
OSON, VI is a holding company that creates value for customers by building high-performing and inclusive businesses leveraging its own corporate partnerships, relationships with leaders, deep operating experience, and values based culture. The company partners with chief executive officers to grow businesses, improve performance and strengthen balance sheets. OSON is led by a team with over 75 years of aggregate experience in consulting, operations and finance; advises corporations and governments on key strategic and financing decisions and makes investments in select companies. The company invests in and strengthens suppliers of leading companies by enabling management, strengthening business process and systems, and supporting growth.