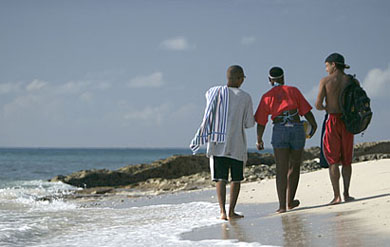 Members of the media are invited to cover a lecture by entrepreneur Kiril Sokoloff, who will make the next presentation in the UVI Entrepreneur Speaker Series at 10:30 a.m., on Friday, Dec. 6. Sokoloff, founder of 13D Research, Inc. which has provided funding for the University's growing entrepreneurship program, will speak from UVI's Administration and Conference Center on the St. Thomas Campus, with a videoconference link to Evans Center Room 401 on the Albert A. Sheen Campus on St. Croix. Interested members of the V.I. business community and public have also been invited to attend the presentation in addition to UVI students, alumni, faculty and staff.
Sokoloff has been involved in almost every aspect of finance, from commercial banking and hedge fund management, to venture capital and private equity investment. He will also share his personal story of starting a business with only $25, while overcoming personal physical challenges. He founded 13D Research, Inc. in 1983, an independent institutional global research firm now based on St. Croix. Previous speakers in the series have included best-selling author Dr. Dennis Kimbro and business woman and philanthropist Loida Lewis.
WHAT:          Lecture by Kiril Sokoloff in UVI's Entrepreneur Speaker Series
WHEN:          Dec. 6, 2013 – 10:30 a.m.
VENUE:        Administration and Conference Center – St. Thomas Campus
                      Evans Center Room 401 on the Albert A. Sheen Campus, St. Croix
CONTACT:              UVI Public Relations Office – (340) 693-1057.