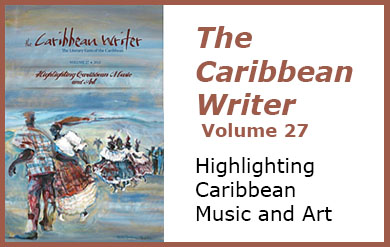 The University of the Virgin Islands announces the December release of the latest edition of The Caribbean Writer, the international literary gem of the Caribbean. This keepsake – Volume 27 – highlights music and visual arts. It features a number of genres, including poetry, personal essays, short stories, one-act plays and book reviews. Volume 27 is visually stunning as well, with cover art entitled "Quelbe Dancers" by Cuban-born Madeliene Meehan, a resident of St. Thomas who has won many awards for her work and has been featured in the New York Times.
The volume also features the works of Dove, St. Croix's celebrated street artist who passed away in 2002. The images of Dove's work were donated to the journal from private collections. Works by another well-known Crucian street artist, Albert Jerry Simmonds, better known as AJ, are also included. The works of UVI art instructor Cynthia Hatfield and UVI student Baasil Abdulrashid are among those featured along with pieces by local and regional artists Kristen Maize of St. John, W.B. Thompson of St. Thomas and Haitian artists Arlene Magliore and Bernard S. Hoyes.
"We are pleased to continue in the tradition of excellence which both the University and The Caribbean Writer represent with this new volume of the journal," said UVI President Dr. David Hall. "It is this spirit of excellence that has ensured the success and vitality of the journal for so many years."
Volume 27 was edited by Alscess Lewis-Brown, who has authored several books for young people including, the Moko Jumbi Majorette series, Efa and the Mosquito and soon-to-be-released, Foot Steps to the Sunrise. She has served on the University's part-time faculty since 1990, teaching courses in writing and the humanities.
"I am honored and delighted to have been chosen to edit this volume," Lewis-Brown said, reflecting on the approximately 800 submissions, from which final pieces for publication were selected. She thanked the journal's editorial board, whose members participated actively in the paring down process and who contributed greatly to this keepsake publication. That board includes UVI faculty members Dr. Patricia Harkins-Pierre and Dr. Vincent Cooper, local poet and novelist Edgar O. Lake and Carol O. Henneman, a local poet, motivational speaker and former Virgin Islands Daily News columnist.
"We are pleased that this volume has drawn such an array of visual art and literature from across the Caribbean," Brown added. "Works have been submitted from countries in South America on up the Caribbean archipelago to the Bahamas and across the United States, and from as far away as Japan, Great Britain and Spain – literally every place where the Caribbean experience is being lived or where Caribbean people and their descendants are living," Brown added.
The issue also features two special sections. The first, "Who bin sen Yeh," Crucian Music by Dimitri Copemann, provides historical and personal insights into the music and cultural dances of the Virgin Islands. The second features an interview with international Barbadian performer Rupee, by Lia T. Bascomb.
"The works in this volume are a tribute to our collective imagination," Brown said. "They suggest that we live in a deeply reflective society so concerned with the truth of matters that affect us that we imbed them in our music and visual art – creating a regional and, by extension, world conversation."
Writers featured in Volume 27 include Joey Garcia, Shokry Eldally, Joanne C. Hillhouse, Diana McCaulay, Jannine T. Horsford and Gary Winters. They are joined by local writers Rosalyn Rossignol, Daisy Lafond, Lloyd Maynard and Shanara Mathew, writing from St. Thomas, Kate Melone and Amrey Mathurin, writing from St. Croix, and LJ Swanson, writing from St. John. The journal features book reviews by D. Giselle Isaac, Susan Wanlass, H. Nigel Thomas, Laurence Lieberman and Elaine Savory, among others. Local writers who contributed book reviews include Dr. Valerie Knowles Combie, Dr. Patricia Harkins-Pierre, Dr. Simon B. Jones-Hendrickson, Phyllis Gershator and Dr. Vincent Cooper.
Copies are $20 and can be ordered by emailing abrown@live.uvi.edu or orders@thecaribbeanwriter.org. Orders can also be placed online at The Caribbean Writer's website – http://www.thecaribbeanwriter.org.