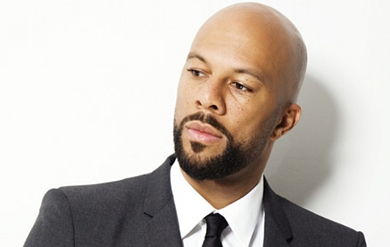 Grammy Award winning hip-hop artist Common will bring his acclaimed performance to the Reichhold Center for the Arts at 8 p.m. on Saturday, Jan. 11. Be prepared to experience a high-energy, beat thumping hip-hop performance from an artist who has been rocking shows for over 20 years. Common is an American hip-hop recording artist with numerous awards to his credit due to his timeless music. Hits like "The Light," featuring Erykah Badu, "Love of My Life," "Go," "Come Close," and classics like "I Used to Love H.E.R." propelled him into the hip-hop spotlight. Outside of his musical career, Common is an accomplished actor, performing in box office movies like "Just Wright" in 2010,  the television series "Hell on Wheels" and roles in various Hollywood films alongside the likes of Morgan Freeman, Angelina Jolie, Keanu Reeves and Queen Latifah.
With two Grammy Awards to his credit, Common is undeniably a living legend in hip-hop and his stage shows are the evidence of his amplitude. Saturday marks the first time a major hip-hop performance graces the Reichhold Center stage. This is in keeping with the center's founder Henry Reichhold's vision and the center's 35th season goal of bringing a cosmopolitan lineup to its patrons.
 "This is the first time in Reichhold's 35 years that a hip-hop artist will perform as part of the season line-up," said Reichhold Center Director Nissa Copemann. "Common's lyrics, musical styling, and delivery are just a few elements of his body of work which exemplify all that makes hip-hop a true American art form, and a musical genre that has earned the right to be included in a Reichhold season," she said. "Common's name can now be added to the ranks of luminaries such as Ray Charles, Roberta Flack, Michael Bolton and Celia Cruz that have delivered ground-breaking performances on the Reichhold stage."
The night of hip-hop will include a VIP reception. Tickets are $70 for the lower covered seats and $50 for the upper uncovered seats. All seats in the uncovered section are sold out. A premier VIP package that includes all inclusive drinks at the Sky Bar, access to a VIP Reception, a chance to meet Common and a VIP gift bag is available for an additional $60.  In recognition of the Reichhold's 35th anniversary, the center is offering a discount of 35 percent on group purchases of 10 or more tickets.  Limited press passes are available. For more information please contact Reichhold Center Marketing and Sales Manager Ian M. Turnbull via email at ian.turnbull@uvi.edu or call (340) 693-1554.  To purchase tickets, visit Urban Threads or contact the Reichhold Box Office at 340-693-1559. You can also purchase tickets on-line from http://www.reichholdcenter.com or from this direct link.