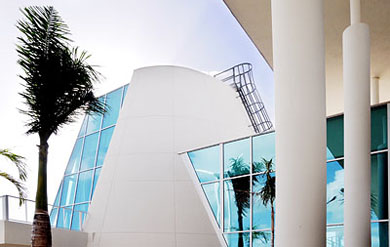 HOVENSA L.L.C. made a donation of $100,000 to the Scholarship Fund of the University of the Virgin Islands in a check presentation on Wednesday, Jan. 15, on the University's Albert A. Sheen Campus on St. Croix. The presentation was made in a ceremony at the UVI College of Science and Mathematics offices, located in the second floor of the UVI Research and Technology Park.
"It is my hope that this donation to the University will increase the opportunity for students in the territory to secure a degree in higher education right here at home," said HOVENSA General Manager Sloan Schoyer, who presented the donation to UVI. Schoyer said that he looks forward to this donation enabling more students in the territory, to not only secure a degree here at home, but also to use the knowledge and skills gained through the degree to become leaders in both the public and private sectors of the community.
"HOVENSA has been a major contributor to the University for many years, and we are delighted that this support for higher education continues, even during these challenging times," said UVI President Dr. David Hall, who accepted the donation for the University. "Their investment in the education of our students will ensure that we produce the future business leaders who will contribute the economic development of the Virgin Islands."
Schoyer added that "HOVENSA believes that providing higher education to local residents is crucial to a better economy and the future of this community as a whole." In addition to this donation to the UVI Scholarship Fund, he said that approximately fifty Virgin Islands residents who graduated in recent years from high schools in the territory are receiving scholarships directly from HOVENSA in the 2013-2014 academic year to begin or continue their studies at an accredited U.S. college or university of their choice.
"Scholarship support for our students is one of the most critical investments donors could make at UVI," said UVI Vice President for Institutional Advancement Dionne V. Jackson, who was also on hand for the presentation.
"These funds help reduce the financial barriers for deserving students. Without it, we risk diminishing the pool of future leadership throughout our communities. UVI looks forward to even more partnerships with private donors."
For more information on ways to support the University of the Virgin Islands and its students contact UVI Director of Major Gifts Mitchell Neaves at (340) 693-1046 or send e-mail to mneaves@uvi.edu.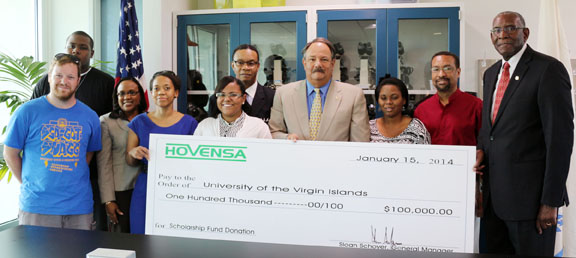 A number of UVI process technology/STEM students were on hand for the HOVENSA check presentation to the UVI Scholarship Fund on Jan. 15. The funding is intended to support students studying in the fields of science, technology, engineering and mathematics (STEM) and process technology. Shown, from left, are students Adam Beck (front) and Kelvin Thomas, Tarah Graham of HOVENSA, UVI Vice President for Institutional Advancement Dionne V. Jackson, student Michelle Henry, HOVENSA Chief Legal Counsel and Secretary Franklin Quow, HOVENSA General Manager Sloan Schoyer, student Jahaira Melendez, UVI Assistant Professor of Process Technology Eric Douglas and UVI President David Hall.