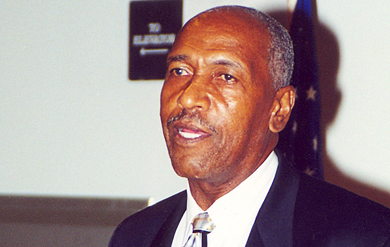 The University of the Virgin Islands community mourns the passing of Eugene Werts.  He passed away on Thursday, Jan. 16, at a hospital in the mainland United States after battling a heart condition. Werts served as assistant professor of Physical Education and head coach at the then College of the Virgin Islands (CVI). He was 76 years of age. The UVI family expresses heartfelt sympathies to Werts' wife Edith, his relatives, and friends. A memorial service will be held at 10 a.m. on Feb. 7, in the UVI Sports and Fitness Center.
Werts worked at UVI for 29 years and served under UVI Presidents Dr. Lawrence C. Wanlass, Dr. Arthur A. Richards and Dr. Orville Kean. He is credited with starting CVI's intercollegiate basketball program in the late 1960s. While CVI had a basketball team, they played games locally until Coach Werts developed the intercollegiate program. Werts spent most of his professional career developing CVI/UVI's athletics program. In 2001, he was inducted in the UVI Athletic Hall of Fame. Coach Werts also served as head coach of the Virgin Islands Olympic Basketball Team from 1966 to 1969, 1971 and 1978.
"He was an all-around good basketball player and coach," said former UVI Vice President of Students Affairs and Athletics Dr. Ronald Harrigan, who counts Werts as one of his mentors. "He advanced coaching in the Virgin Islands. I really admire him for that." UVI Interim Athletics Director Curtis Gilpin was taught and mentored by Werts. Gilpin said that Werts brought a higher level of basketball to the Virgin Islands.
 Werts' love for basketball reaches back many years. In high school he played center at Atkins High School in North Carolina. "Wheels," as his teammates called him, was an excellent ball handler and a shooter from any angle. Werts was named the All-City/County, All-District, All-Conference and All-State Negro AAA basketball teams in 1955, 1956 and 1957.
In college, Werts played for the Tennessee State University Tigers. During his time with the Tigers, they won two consecutive Georgia Invitational Tournaments, starred as the National Association of Intercollegiate Athletics (NAIA) All Stars and upset a National Collegiate Athletic Association (NCAA) Champion Ohio team State featuring Jerry Lucas in the opening round of the 1960 U.S. Olympic trials.
Werts pursued his dream of coaching and earned a Bachelor's of Science degree in health, education and recreation from the then Tennessee A & I State University in 1962.  He has served as a teacher in the Gary Indiana Public School System, assistant coach at Kentucky State University and as a graduate assistant at Tennessee State University. Werts also served in the U.S. Army from 1963 to 1965 as a top secret documents specialist.