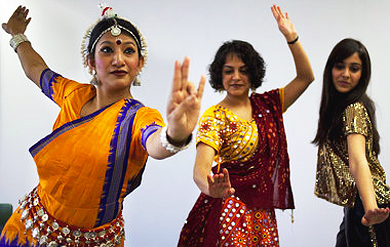 The Reichhold Center for the Arts will present the Surati Indian Dance Company and their award-winning production "Glimpses of India" at 8 p.m. on Saturday, Feb. 22. This vibrant performance features colorful costumes, live musicians, and an amazing troupe of Indian dancers presenting authentic Indian dance and music, as well as dazzling Bollywood-themed routines.
Surati's Founder and Director Rimli Roy comes from a family of gifted artists including her father, Sumit, and mother, Arati, both prominent music composers based in India. Surati is one of the most sought-after Indian dance troupes. They have performed at illustrious venues around the globe including the Kennedy Center in Washington, D.C.
"I'm really excited about the upcoming Surati performance," said Pash Daswani, owner of Lucky Jewelers in downtown St. Thomas. "As a representative of the India Association, I can say that our sole purpose is to support all cultural initiatives within the community and this performance touches on this directly. We applaud Reichhold for bringing such a show to the stage and highlighting what is a developmental aspect of all Virgin Island locals." Surati's intensely trained dancers deliver lively and authentic performances that pay homage to traditional Indian dance forms such as Bharatnatyam, Odissi, and Manipuri, while incorporating modern dance elements, such as the popular Bollywood style.
"Surati's performance is definitely one of the highlights of Reichhold's 2013-2014 Season," said Reichhold Center Director Nissa N. Copemann. "Indian culture has in no small way influenced Virgin Islands culture – everything from our food to our vernacular. What better way to celebrate these influences than an amazing performance that will not only entertain but educate." Gates open at 7 p.m. for Surati's performance.
 As part of its ongoing commitment to educating young people through art, the Reichhold Center, in partnership with the Virgin Islands Council on the Arts, will host Surati's artist residency on the morning of Friday, Feb. 21. This will be an interactive workshop led by the dancers of Surati and is designed to give students a hands-on experience with the art of Indian dance. The residency will take place at the Reichhold Center and is free for all local students.
The Reichhold Center's is located across from Brewers Beach. Parking is free and plentiful. For more information about Surati's performance, including sponsorship opportunities and educational initiatives, or the free student residency on Feb. 21, contact Ian M. Turnbull, Reichhold Center's marketing and sales manager at ian.turnbull@uvi.edu or (340) 693-1554. To purchase tickets, visit www.reichholdcenter.com or contact the Reichhold Box Office at (340) 693-1559. Group discounts are available.