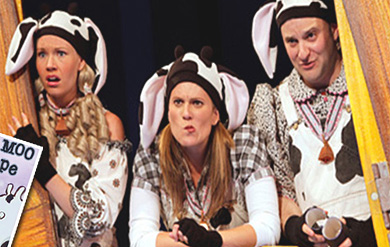 On Saturday, March 1, the Reichhold Center for the Arts will present Click Clack Moo: The Musical, a vibrant production based on the award-winning children's book, "Click Clack Moo: Cows That Type." This modern children's classic tells the tale of Farmer Brown's Cows, who find an old typewriter in the barn and go on "strike" by sending numerous written demands in exchange for their milk. The book was a 2001 Caldecott Honoree; named by the National Education Association as one of "Teachers' Top 100 Books for Children"; and named one of the "Top 100 Picture Books" of all time in a 2012 poll by School Library Journal.
The musical will feature lively and colorful set and animal costumes, sing-along songs and fun entertainment for the whole family. The performance takes place at the Reichhold Center on Saturday, March 1st at 7 p.m. The first 150 children to enter will receive a free copy of the book "Click Clack Moo." The theater gates will open at 5:30pm for the "Reichhold County Fair," with free face-painting and balloons, bounce house, farm-themed games, popcorn, popsicles, and much more. Patrons will be able to enjoy two events for the price of one. Economically priced Family Fun Packs include four tickets, snack packs for kids including a prize, and book for the family library. Call the Reichhold Box Office at 340-693-1559 for details on the Family Fun Packs. Group discounts are available.
As part of its Arts in Education Program, The Reichhold Center in partnership with VI Council for the Arts will host a student workshop featuring costumed members of the cast of Click Clack Moo: The Musical. This free workshop will take place on Friday, Feb. 28, promptly at 9:30am at the Reichhold Center. For more information on Click Clack Moo: The Musical, please contact Ian M. Turnbull at Reichhold Center of the Arts via email ian.turnbull@uvi.edu or 340-693-1554. To purchase tickets contact the box office at 340-693-1559 or visit us online at www.reichholdcenter.com.
Select this link to see the Click Clack Moo commercial: Reichhold Center Presents: Click Clack Moo The Musical