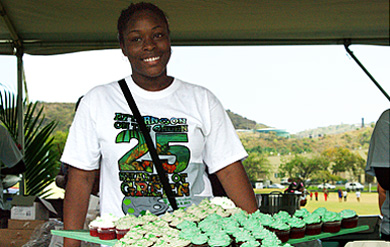 The University of the Virgin Islands announced the winners of the 25th Annual Afternoon on the Green, which was presented by the VI Lottery,  held on Sunday, March 9. Afternoon on the Green Co-Chairs Cheryl Miller and Winston Smith thanked the community for coming out to the support UVI's annual "friendraiser" and also thanked the volunteers for their assistance. "I thank everyone who took the time out of their busy schedule to prepare a delicious dish for this event," said Miller. "Your generous donation allows deserving UVI students to receive scholarships. I congratulate all of the chefs that won awards in their categories."
Edna Pole received the "Overall People's Choice" award after getting the most paper ballot and text votes. Pole, who prepared "Ed's Goat Water," won a trip for two to St. Croix, including a two-night stay.
For the third year in a row, Brianna Hairston received the "People's Choice" award, by receiving the most texts through the Choice Wireless text voting. In 2013, she received the award for her Tropical Coconut Cupcakes and, in 2012, her vanilla cupcakes were a favorite with Afternoon on the Green attendees. In 2011, she received first place in the Pastries and Sweeties Category for her Red Velvet Cupcakes. As the "People's Choice" winner, Hairston won an Android phone from Choice Communications. See the complete list of winners below:
Afternoon on the Green 2014 Winners
Overall People's Choice
Edna Pole – Ed's Goat Water
People's Choice
25th Anniversary Cupcake – Brianna Hairston
Pastries and Sweeties
1st Prize – Edna's Carrot Cake, Edna Roebuck
2nd Prize – 25th Anniversary Cupcakes, Brianna Hairston
3rd Prize – Assorted Tarts, Louise Thomas Lettsome
Main Dishes/Meats/Poultry
1st Prize – Grilled Chicken (in an island barbecue sauce), Elbert A. Petersen
2nd Prize – Arroz con Pollo, Judy Bonelli
3rd Prize – Carib Pineapple Rum Chicken, Maura Hennessy
Side Dishes
1st Prize – Tied – VI for Plaskett Mac and Cheese, VI for Plaskett/Yabba's Fried Cauliflower, Yabba's Ital Restaurant
2nd Prize – Tied – Coconut Rice, Maura Hennessy/Mango Momma's Quinoa with veggies, Cheryl Miller/WUVI AM 1090 Tomato Salsa, Alex Randall/Yabba's Pasta, Yabba's Ital Restaurant
Vegetable/Casseroles
1st Prize – Sean Georges Sweet Corn Awesomeness, Sean Georges
2nd Prize – Lasagna, Mauritzer Gumbs
3rd Prize – Tied – Eggplant Cheese Lasagna, Simply Italian / Cream Broccoli, Verdis Browne
Seafood
1st Prize – Brigo's Firehouse Salmon, Arthur Raymo III
2nd Prize – Grilled Salmon, Office of Sen. Myron D. Jackson
3rd Prize – Vadalia Onion Fish (Tilapia), Angel Nibbs
Soups
1st Prize – Ed's Goat Water, Edna Pole
2nd Prize – Red Peas Soup with Pork, Stedman Hodge, Jr.
3rd Prize – Pumpkin Soup, Friends and Supporters of Sen. Tregenza Roach
Breads
1st Prize – Josie's Banana Bread, Josephine Humphreys
Native Drinks
1st Prize – Hibiscus Drink, Germaine Baird
2nd – Flaxseed Drink, Sonia Lake-Edwards
"We thank the entire Virgin Islands community for supporting this event over the past 25 years," said Dionne Jackson, vice-president for Institutional Advancement at UVI. "Through your efforts, the funds raised at this event will directly impact our students' lives and help them close the financial gap of the costs of higher education."
 Afternoon on the Green Co-Chair Winston Smith thanked all of the Afternoon on the Green's sponsors for their support. The Afternoon on the Green was sponsored by West Indian Company Limited, First Bank, VI Waste Management Authority, Virgin Islands Council of the Arts, Pro Solar, VI Auto Club, MSI, Merchants Bank, the West Indies Company, Choice Communications, the VI Port Authority, and 104.3 The Buzz.
Did you attend Afternoon on the Green?  Your photo may be among those featured on the UVI Facebook page - www.facebook.com/UVI.edu. Be sure to Like the UVI page and share with your friends.