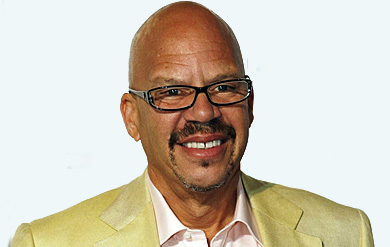 Popular talk show host and philanthropist Tom Joyner is coming to St. Thomas on Wednesday, March 19, and he will visit the Virgin Islands radio station that carries his daily show – WUVI 1090 AM. WUVI is the University of the Virgin Islands' radio station that went on air in January 2013. The Tom Joyner Morning Show, one of the most popular radio shows among African Americans, is carried live on WUVI. 
Joyner will join UVI President David Hall and UVI students in a spirited discussion live on WUVI at 2 p.m. on Wednesday, March 19. In addition to visiting WUVI, Joyner will host a gathering of friends and supporters at the Reichhold Center from 2:30 to 4:30 p.m. before going 'back to the ship.'
Joyner is in the territory on his annual "Fantastic Voyage" Caribbean cruise that serves as a fundraiser for his Tom Joyner Foundation. The foundation provides scholarships to students in Historically Black Colleges and Universities, including UVI. This year the cruise includes a stop on St. Thomas and Joyner is taking the opportunity – not to shop – but to visit the University and the radio station that carries his show.
Fans of the Tom Joyner Morning Show can find their favorite radio show from 6 to 10 a.m., Monday through Saturday, on WUVI 1090 AM. 
WUVI is supported in part by a Title III grant and by commercial sponsors. It airs on AM frequency 1090. It is also available on the internet at www.wuvi.am. The station features local culture, local and regional music, radio drama, programs hosted by UVI professors and national news like "Democracy Now" which airs at noon daily. Businesses and organizations wishing to purchase advertising should call (340) 643-1099. Listeners wishing to talk on-air can call (340) 643-1090.
The radio station is part of the Communication program in the College of Liberal Arts and Social Sciences at the University. Students in the Communication program earn a degree in Communication, with minors or concentrations in journalism, broadcasting, computer mediated communication, and speech and theatre. The director of the Communication program and faculty adviser for WUVI is Dr. Alexander Randall, who is a professor of Communication and Chair of Communication, Art and Theatre at UVI. For more information about WUVI contact Dr. Randall at arandal@uvi.edu.