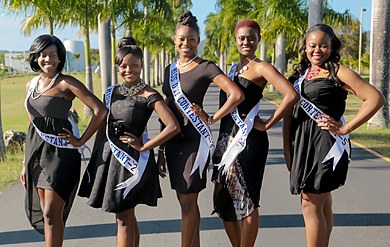 The University of the Virgin Islands Student Government Association invites everyone to the 34th Annual Miss UVI Ambassadorial Competition at 6:30 p.m., on Saturday, April 12, at UVI's Reichhold Center for the Arts on St. Thomas. The theme is: "We are Historically American, Uniquely Caribbean and Globally Interactive."
Five contestants will vie to succeed Murchtricia Charles, the reigning Miss UVI.
Contestant number one is Kimberly Donovan, 21, a senior majoring in elementary education with a concentration in English. She was born on Tortola and is attending UVI on the St. Thomas Campus. Donovan aspires to be a teacher, lawyer and interpreter.
 Contestant number two is Elisa Thomas, 20, a junior majoring in communication. She was born on St. Thomas and is attending UVI on the St. Thomas Campus. Thomas aspires to work as a news anchor, host events and produce/host her own local television show.
Contestant number three is Shanice Wilson, 24, a junior majoring in business administration with a concentration in marketing. She was born on St. Croix and is attending UVI on the Albert A. Sheen Campus. Wilson earned an associate's degree in business administration and general studies from Macomb Community College in Warren, Mich. She enjoys volunteering in the community and wants to be an inspiration to individuals around her.
Contestant number four is Sheresia Gumbs, 20, a sophomore majoring in applied mathematics. She attends UVI on the St. Thomas Campus. She aspires to follow in the footsteps of her role model, First Lady Michelle Obama, because of her tenacity, community involvement and her fashion sense.
 Contestant number five is Nichole Etienne, 20, a junior majoring in computer science with a concentration in computational biology. She was born on Dominica and attends UVI on the St. Thomas Campus. Etienne aspires to be a well-established scientist revolutionizing lives through innovations in science and technology.
The contestants will participate in a pre-pageant interview. They will be judged on content, intellect, language usage, fluency, spontaneity, physical presentation, auditability, clarity and information.
The Miss UVI Ambassadorial competition has six segments including, business wear, introduction, ambassadorial presentation, talent, evening wear, and question and answer. The contestants will be judged on the same criteria as the pre-pageant interview and also on appearance, appropriateness, intonation, outfit design and deportment. For the talent segment contestants will be judged on their expression, natural ability, uniqueness, cohesion, flow and impact.
Miss UVI serves as an ambassador for the University. This role includes but is not limited to participation in UVI's recruitment efforts, representing the University locally and abroad, and maintaining a highly visible role on UVI's campuses on St. Thomas and St. Croix.
The winner will receive one full year of UVI tuition, including room and board, and other prizes. Awards will be given for the Most Intellectual Speaker, Best Ambassadorial Presentation, Best Performing Talent, Best Evening Wear, Miss Congeniality, Miss Popularity and Miss Photogenic. Prizes will be given in each award category.
The Miss UVI Ambassadorial Competition is presented by the Queen's Committee of the UVI Student Government Association. Special ticket prices are available for UVI students with student identification. Discounted tickets – $20 covered and $15 uncovered – are only available at the UVI Bookstores on St. Croix and St. Thomas. All tickets for non-UVI students are $25 for the covered section and $20 for the uncovered section.
Other ticket outlets on St. Thomas include the Reichhold Center Box Office and Just Threads. Tickets are sold at Woody's Seafood Salon on St. John. Tickets on St. Croix are only available from the UVI Bookstore. For more information, contact the UVI Student Activities Office at (340) 693-1640 or send e-mail to llafond@live.uvi.edu.