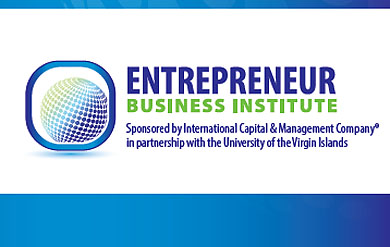 Members of the media are invited to cover and photograph business plan presentations developed by students during the 2014 Entrepreneur Business Institute (EBI) summer program on UVI's St. Thomas Campus. The student presentations are scheduled in two sessions, on Monday, July 7. They will take place from 10:45 a.m. to noon and from 1:15 to 2:30 p.m. in Room 110 of the Business Education Building on UVI's upper campus.
The students' plans cover a wide range of potential businesses, from clothing and real estate, to tourism and computer related enterprises. Judges for the presentations will be employees of International Capital & Management Company (ICMC), which sponsors the institute, and the VI Small Business Development Center. UVI business professor Dr. Paul Fleming, the program director, said the judges have also committed to continue to working directly with the students as they develop their business plans into viable businesses during the remainder of their summer break. The class of EBI 2013 spawned several microbusinesses owned and operated by high school students.
Twenty nine students representing the majority of the territory's high schools are participating in the three-week EBI program, which is presented annually in collaboration with UVI's School of Business.
What:             Entrepreneur Business Institute – Student Business Plan Presentations
When:            Monday, July 7, 2014
Where:          Room 110 in the Business Education Building – St. Thomas Campus
Time:             Session I – 10:45 a.m. to noon; Session II – 1:15 to 2 p.m.
Contact:        EBI Program Director Dr. Paul Fleming – (340) 692-4075
                       Public Relations (340) 693-1057 or pr@uvi.edu