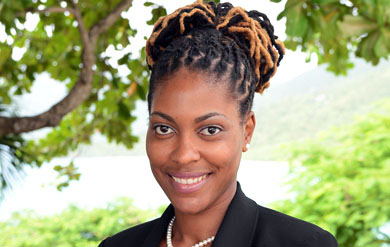 Nanyamka A. Farrelly has been appointed Director of Public Relations for the University of the Virgin Islands. Farrelly, who has served in this role in an interim capacity for the past two years, is charged with leading the University's internal and external communication for all traditional and electronic media. She also stewards the University's branding strategy and cultivates relationships with various media stakeholders locally and abroad. In addition, Farrelly plays a pivotal role in crisis communications and issues management, and serves as the official UVI spokesperson. 
PHOTO: UVI Public Relations Director Nanyamka Farrelly
In making the announcement, UVI Interim Vice President for Institutional Advancement Mitchell Neaves said Farrelly has served ably in this role in an interim capacity. "It has been my pleasure to work directly with Ms. Farrelly in her interim role, as well as previously in her many years as a public relations specialist," he said. "Over the years, she has been an active member of the UVI Alumni Association and has held several leadership positions on various committees at the University." 
UVI President Dr. David Hall said Farrelly's appointment will help the University to achieve the goals to appropriately brand and position the institution for future growth. "We aspire to address issues locally while having an impact on a global scale," Dr. Hall said. "I am particularly pleased with a selection process that has resulted in identifying someone with a long-standing relationship with UVI and a comprehensive understanding of the direction we have embarked upon."
"It is truly a privilege to be selected to lead UVI's Public Relations Office," Farrelly said. "I work with a great team of people and we will continue to build UVI's brand and image through strategic integrated marketing communications," she said. "As a UVI alumna, I feel honored to be entrusted with the responsibility of telling the story of the University of the Virgin Islands – an institution that is close to my heart and whose mission I live daily," she said. "It is my plan to uniquely position the institution and take the name 'University of the Virgin Islands' global."
Farrelly received both her BA, in Humanities with a concentration in Journalism, and MBA degrees from the University of the Virgin Islands. She is a graduate of Ivanna Eudora Kean High School on St. Thomas.
In 2002, Farrelly joined the University as a public relations specialist. In that capacity she created a number of specialized newsletters for University stakeholder groups, while producing news releases and contributing regularly to a wide variety of University publications and initiatives. She also focused on sharing UVI's successes via television, radio, print, social media, multimedia and other avenues. Farrelly served as a member of the UVI Staff Council from 2008 to 2011, the UVI Senate from 2009 to 2010, and on the UVI Budget Committee from 2011 to 2012. She also served as the spokesperson for UVI's annual fund drive in 2013, the year in which alumni efforts earned the Historically Black Colleges and University National Alumni Association of the Year award from HBCU Digest.
From 1999 to 2002, Farrelly worked as a reporter for the Virgin Islands Daily News, where she focused on features, human interest stories, community events and entertainment. She also served as a freelance columnist for the Daily News from 2007 to 2008.