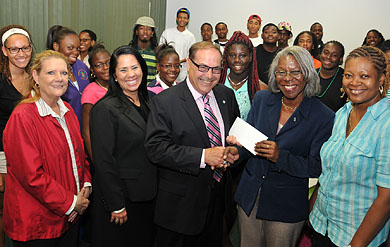 AT&T has awarded the University of the Virgin Islands a grant of $30,000 in support of the University's 2014 Summer Bridge Program. Summer Bridge is a free, five-week, residential program offered on UVI's campuses on St. Thomas and St. Croix. It is designed to strengthen the critical reading, writing and math skills of participating students with intensive classroom work, while improving their chances for success in college. It is open to students who have graduated from high school and are planning to enter UVI in the fall.
PHOTO: AT&T Regional Vice President for Puerto Rico and the U.S. Virgin Islands Ray Flores presents a check for $30,000 to help expand UVI's Summer Bridge Program during a visit with some of the program's students on July 9. Shown with Flores are, from left, program instructor Prof. Linda Wymer, AT&T USVI  Area Retail Sales Manager Catherine Kling – who earned an Associate Degree in Hotel and Restaurant Management from UVI in 1999, Flores, Interim Director of UVI's Center for Student Success Maria Fleming, and Summer Bridge St. Thomas Campus Coordinator Jennifer Palmer Crawford. Earlier Flores shared the story of his personal struggle to achieve an education. "Never give up," he told the students. "Don't leave school. Make the USVI proud of you." 
Summer Bridge officially started on Saturday, June 21, with a joint opening ceremony videoconferenced between St. Thomas and St. Croix. Following that, individual familiarization sessions were held for the parents of the students who are now living in UVI residence halls. Classes began on Monday, June 23.
"We are grateful to have received this funding from AT&T," said Maria Fleming, interim director of UVI's Center for Student Success, which oversees the program. "This generous donation has made it possible for us to accept an additional 10 students into this year's program. Since the Summer Bridge Program helps give these students a jump start into their college careers at the University of the Virgin Islands, without having to take any remedial courses, the students are more likely to complete their programs in a timely manner."
"With the expansion of the Summer Bridge Program, UVI will be able to grow their outreach to more students to be able to enhance their preparation for and chances of long-term success while attending UVI," said Ray Flores, AT&T regional vice president for Puerto Rico and the U.S.V.I. "AT&T's support of Summer Bridge is consistent with our belief that investments in our youths' preparation for college will reap countless rewards for them personally and for their communities."
Fleming explained that in addition to reading, writing and math courses, the students will be exposed to a number of "College Success" topics such as study skills, campus life and money management. Weekends are designated for field trips targeting career and professional development.
The Summer Bridge Program, which is going into its fourth year, is supported by Title III funding, along with additional support from members of the business community, such as AT&T, and funding from Quantico Consulting Services and the V.I. Department of Labor, according to Fleming. "With the added funding from AT&T, this year's Summer Bridge Program has enrolled 40 students each on St. Thomas and St. Croix, expanding on the success of the program and the success of the students it enrolls," she said.
AT&T's Flores presented the AT&T check and visited with students enrolled in the St. Thomas section of the program on July 9.
Recent Charlotte Amalie High School graduate Kamanza Tonge, who is participating on St. Thomas, is particularly happy with the program's reading and writing courses. "If it wasn't for this program I would have to take these as skills classes in the fall," said Tonge, who will major in English at UVI. That would mean devoting valuable time during his freshman year to taking non-credit courses. "Thanks to this program, I won't have to." Tonge also said the fact that the program is free "means more people can take advantage of it. I think this summer bridge program is basically just what it says – a bridge to get you where you're going."
Keosha Auguste, a graduate of Central High School on St. Croix, plans to major in nursing at UVI on St. Croix in the fall. "So far it's great," she said, adding that it helps her to "feel like I'm getting into the adult stage. It feels a little different, because I don't have mommy and daddy here. I'm doing things on my own." Along with regular academic classes, Auguste also likes the College Success course, which teaches basics, like "learning how to get student worker jobs." 
Another Summer Bridge student on St. Thomas is Ivanna Eudora Kean graduate Shantel Hector. "It's going good so far," she said. "In the writing class we're learning strategies to make our everyday writing stronger." She plans to major in psychology at UVI in the fall. "I think psychology will require quite a lot of writing," she said. She would advise other students to apply for the program. "It's teaching us responsibility and getting us ready for college," she said.
"Basically this program gives you a dose of college before you even attend," said Samuel Joseph, who graduated from the St. Croix Educational Complex and is enrolled in the St. Croix program. He applied after a friend told him about it. "It's a good way to utilize my summer," he said. In the fall, Joseph plans to major in business administration at UVI on St. Croix. He particularly likes the program's reading class. "It's just not reading. It's critical thinking," he said. "It helps me use my mind. No matter how broad an idea, it helps me to extract the main points."
In addition to this grant for the Summer Bridge Program, AT&T presented a $28,000 grant last November to support another 2014 summer program, the Math Behind the Science Bridge Program. Math Behind the Science is designed specifically for students interested in pursuing careers in science, mathematics, engineering, technology or medicine. The earlier grant brings the company's total financial support for UVI summer programs this year to $58,000.
AT&T Inc. is committed to advancing education, strengthening communities and improving lives. Through its community initiatives, AT&T has a long history of investing in projects that create learning opportunities; promote academic and economic achievement; or address community needs. In 2013, more than $130 million was contributed or directed through corporate, employee, social investment and AT&T Foundation giving programs.
For more information on ways that foundations and corporations can support the University of the Virgin Islands and its students, contact UVI Director of Corporate, Foundation, & Government Relations Richard Cleaver at (340) 693-1042 or send e-mail to richard.cleaver@live.uvi.edu.