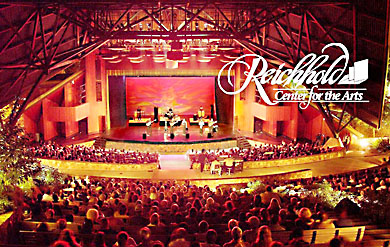 This summer, the University of the Virgin Islands' Reichhold Center for the Arts began much needed capital improvement projects to restore and enhance the 1,196 seat facility. These projects will address water intrusion, cistern rehabilitation, roof and exterior sheathing repair, exterior signage replacement, Americans with Disabilities Act (ADA) accessibility and electrical upgrades. The Reichhold Center Foundation Board initiated the capital projects in October 2012.
 "The Reichhold Center for the Arts has been a staple in our community for the last 35 years, giving local patrons, young and old, an opportunity to enjoy world-class entertainment without having to leave the Virgin Islands," said Reichhold Center for the Arts Interim Director Denise Humphrey. "We are committed to restoring and upgrading the Reichhold Center to ensure that we can continue to host world famous artists in a safe comfortable environment."
The Reichhold Center's parking, accessible routes, restrooms and seating will be upgraded to address ADA compliance. The main power distribution system generator and automatic transfer switch will also be upgraded and the existing road signage at the entrance and exit of the facility will be replaced.
"By addressing these issues, the Reichhold Center will return in its 2014-2015 season better than ever," said Humphrey. "We are currently planning the launch of the new season on August 14, and are looking forward to welcoming back loyal patrons and new friends to our beautiful amphitheater."
The Reichhold Center will continue to host the Artists in Residence Program that allows artists to teach local students their trade. In the 2013-2014 season, students drummed a tune with Sheila E and belly danced with the Sahar Dance Company. The Artists in Residence Program is sponsored by the Reichhold Center and the VI Council of the Arts' Arts in Education Program. The center also hosts the Youth Moviemaking Workshop every summer. However, the workshop was cancelled this summer because of the ongoing construction.
All of the capital improvement projects are expected to be completed by summer 2015.  For more information on the Reichhold Center's capital projects contact Denise Humphrey at dhumphr@uvi.edu or (340) 693-1552.