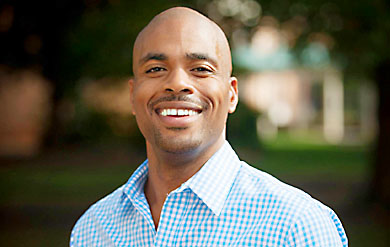 The University of the Virgin Islands has appointed Stephan Moore to serve as Dean of Students on the Albert A. Sheen Campus on St. Croix. Moore has been a professional in the field of higher education and student affairs for more than 12 years. His appointment at UVI began on July 1.
"We are delighted to have Mr. Moore join our Student Affairs team," said UVI Provost Dr. Camille A. McKayle. "His varied experience and commitment to students will be an asset to UVI and, in particular, the students on the Albert A. Sheen Campus. He brings a strong commitment to retention and a passion for working with college students."
Moore comes to UVI from Georgia Perimeter College where he held the position of director of Student Life while serving on numerous enrollment management, academic, advisement and other student affairs committees for five diverse campuses. He also served as director of Residence Life and Housing at the Art Institute of Atlanta, where he had oversight of areas pertaining to residential life, student housing, counseling and matters of student conduct. Moore was also area coordinator at North Carolina Central University and has served as a Student Affairs specialist at Louisburg College. Additionally, he has taught college courses in areas pertaining to the freshman experience, similar to UVI's Freshman Development Seminar.
 Moore holds a Master of Arts in Education degree with emphasis on educational leadership from Argosy University and a Bachelor of Science degree in Family Studies from Campbell University in North Carolina. Currently, he is working on a doctoral degree in Higher Education Leadership at Georgia Southern University.
"I am proud and pleased to be joining the UVI family," said Moore. "President Hall has set forward a progressive and inclusive vision for UVI and it's exciting to become a part of a team where there is a vision in the best interest of students and the educational curriculum." 
Moore wants to ensure that UVI develops a school spirit where students, faculty and staff are proud to say that they are Buccaneers. "My short-term goal is to create and enhance a student friendly campus feel for student life," said Moore. "I want to make sure that each and every student feels that UVI is a vibrant and comprehensive place of learning."  
As part of his long-term goals, Moore plans to work closely with administrators on looking at and implementing initiatives that are outlined in the University's strategic plan. He is looking forward to partnering with UVI's Access and Enrollment Services Component on recruitment, and will continue to ensure that enrolled students have a vibrant student life and educational experience that allows the University to retain its students.
"A primary goal for any dean of students is creating an environment that offers a holistic approach to academic and cultural wellness learning for all individuals on a college campus," Moore said. "You have to be able to get out from behind the desk and go out on campus to engage students."