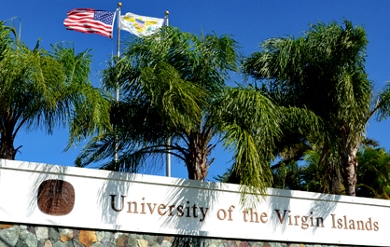 The University of the Virgin Islands School of Business will begin offering a first-of-its-kind Certificate in Entrepreneurship program during the fall 2014 semester, which begins on Aug. 25. Part of a growing emphasis on entrepreneurship at the University, the certificate program will open up the wide variety of business courses at the University to the entire Virgin Islands community as well as to students majoring in something other than business, according to Dr. Timothy Faley, the school's Kiril Sokoloff Distinguished Professor of Entrepreneurship.
The program will feature three course tracks – one tailored to the aspiring entrepreneur looking to get started, a second keyed to the needs of existing business owners eager to grow their firms, and a third for investors or business counsellors seeking to hone their specific skills.
"I am really excited about this program," Dr. Faley said. "It will assist business owners of all experience levels push their businesses to the next level. The program is also an important step toward building a vibrant entrepreneurial ecosystem in the territory that will allow entrepreneurs better ways to help and support each other."
Dr. Faley said the courses offered are designed to help students learn to see opportunities others do not see, create businesses that leverage their individual skills, and finally to assess, plan and launch a business. Additional emphasis will be placed on understanding financing options and growing businesses. He stressed that all the courses, which are part of the regular UVI offerings, are taught by University professors. To earn a certificate in entrepreneurship, participants will complete courses totalling from nine to 12 credit hours. Most individual courses are for three credit hours.
Courses will be offered on the St. Thomas Campus and the Albert A. Sheen Campus on St. Croix. Late afternoon and evening classes will be available to accommodate the schedules of working individuals. Program requirements for those not enrolled as full-time UVI students are a high school diploma or its equivalent, basic proficiency in reading, writing and mathematics, and basic computer literacy.
For more information call UVI's School of Business office at (340) 693-1300 or send email to E-ship@uvi.edu. Details, including a list of specific course offerings, are also available from the Certificate in Entrepreneurship program's web page in the School of Business section of the UVI website – http://www.uvi.edu – and from this direct link.