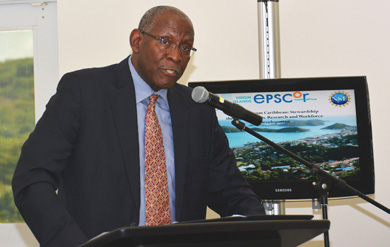 The U.S. Virgin Islands is one of six jurisdictions nation-wide to receive a Research Infrastructure Improvement Track-1 award from the National Science Foundation's (NSF) Experimental Program to Stimulate Competitive Research (EPSCoR) to support Virgin Islands-EPSCoR. The $20 million award will bolster science and engineering academic research infrastructure in the U.S. Virgin Islands. It will also support fundamental research, science and engineering education, and workforce development in the Virgin Islands. The award will be distributed over five years, with $4 million each year. VI-EPSCoR is a territorial program that is housed at the University of the Virgin Islands.
At the award announcement at UVI on Aug. 8, Virgin Islands Governor John P. deJongh said the EPSCoR award will transform the territory, improving the quality of life for residents and bolstering the territory's economic platform. "Today, with this award of $20 million, the University is again taking on the leadership role that is necessary for us to move forward in the areas of environmental research, STEM education and workforce development," Gov. deJongh said. "We are able to imagine the possibilities of what can exist and create pathways to get there."
"This award is a testament to the integral role the University plays in the scientific, technological and economic growth of the Virgin Islands. It will empower the University to continue the cutting-edge research that already exists, and advance to the next level," said UVI President Dr. David Hall.  
"The activities funded by this grant reflect needs identified by the local community that will not only address environmental and other issues of special significance in the USVI, but that also will increase our capacity to compete for research grants nationally," said Director of VI-EPSCoR Dr. Henry Smith.
The other jurisdictions to receive awards are: Kentucky, Maine, Missouri, North Dakota and South Dakota. Each five-year award will support research, science and engineering education, and workforce development in areas relevant to the jurisdictions' economic and other vital interests.
"These projects exemplify the national imperative to engage in cutting edge research, provide educational opportunities for future generations of scientists, stimulate the economy and create jobs," said Denise Barnes, Head of NSF's EPSCoR program. "Additionally, these projects are impressive in their complexity, state-wide scope and integration of individual researchers, institutions, and organizations; as well as in their role in developing the diverse, well-prepared, STEM-enabled workforce necessary to sustain research competitiveness and economic growth."
Dr. Sean Kennan, program director of EPSCoR, noted VI-EPSCoR's unique mandate. "The Virgin Islands' award is especially fascinating because of the novel focus on understanding the diseases that contribute to reef degradation and the relationships with overall environmental conditions, changing climate, and human stressors," Dr. Kennan said. 
EPSCoR is a program designed to fulfill the NSF's mandate to promote scientific progress nationwide. Twenty-eight states, the Commonwealth of Puerto Rico, the U.S. Virgin Islands, and Guam are currently eligible to participate in elements of the program. Through this program, NSF establishes regional partnerships with government, higher education, and industry that effect lasting improvements in a state's or territory's research infrastructure and research and development capacity, and hence, its academic competitiveness.
The Virgin Islands received its first Research Infrastructure Improvement award in 2003 from the NSF, making the territory the smallest jurisdiction to have ever received such an award and UVI the only Historically Black College or University ever awarded.  A second award was received in 2008.
For more information, contact UVI Director of Public Relations Nanyamka Farrelly at nfarrel@uvi.edu or (340) 693-1057.