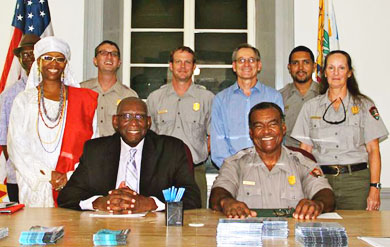 In August, the University of the Virgin Islands and the National Park Service signed a memorandum of Understating (MOU) demonstrating future cooperation between the NPS on St. Croix and the University. This agreement will establish and formalize cooperation for fundraising and resource sharing for programs associated with cultural and natural sciences resources. UVI President Dr. David Hall and National Park Service Superintendent Joel A. Tutein signed the MOU on Aug. 26, in the newly renovated National Park Service offices in the 1830 Customs House at the Christiansted National Historic Site. 
Through the agreement, a variety of new training opportunities will be established through the Virgin Islands Caribbean Cultural Center. Among them, will be the Volunteer for Credit (VFC) program for UVI students. The VFC program will allow students to receive hands-on training in cultural heritage and resource management. Additionally, both undergraduate and graduate students will be able to receive academic credit for volunteer work at the park. The MOU also calls for the generation of collaborative research projects, sharing of cultural and natural resource information, providing professional development opportunities, developing a formal educational lecture series, developing program that enhances existing academic programs, and holding joint events.
"Through this historic memorandum of understanding we hope that we can further these goals and offer sustainable experiences for enrichment throughout the territory," said Dr. Chenzira Davis Kahina, UVI Virgin Islands Caribbean Cultural Center director. 
"We anticipate that students will become involved in programs associated with the National Park Service Centennial in 2016 and the Centennial of the Transfer of the Danish West Indies to the Virgin Islands of the United States of America in 2017," said Dr. Kahina. "Both institutions were established over 50 years ago to enhance the potential for Virgin Islanders to learn and help promote their rich cultural heritage and the unique natural resources of the Virgin Islands."  
The VICCC is housed within UVI's College of Liberal Arts and Social Sciences. Its mission is to collaboratively serve as a liaison designated to create a reservoir of resources and initiatives for faculty, students, administration, staff and the community to maintain and sustain access to materials that nurture, preserve, research, document, restore, promote, protect and respect Virgin Islands and Caribbean culture.