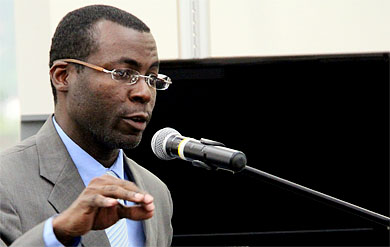 The Virgin Islands Certified Public Manager (VI CPM) program at the University of the Virgin Islands is taking applications for the program's 2014-2015 cohort or "colleague group." The VI CPM certificate program is open to persons who are currently active in managerial or supervisory roles with local, state or federal government and non-profit organizations in the USVI.
PHOTO: Kenneth Herman, VI  director of the Division of Personnel,  addresses graduates of the first corhort of the VI CPM Program.
The first of its kind in any U.S. territory, VI CPM is a nationally-accredited certificate program in management development. To qualify, candidates must have a minimum of four years of management or supervisory experience, and not be within five years of retirement eligibility.
Participants are prepared for the challenges and unique demands of the public management profession. CPM classes are developed to meet the highest standards. Participants gain cutting-edge information and learn practical skills from experts in the field. The Virgin Islands CPM program is delivered by UVI's Institute for Leadership and Organizational Effectiveness (ILOE). Details are available at http://iloe.uvi.edu. The program is designed around seven core competency areas which are set by the national Certified Public Manager Consortium, the accrediting body of all CPM programs.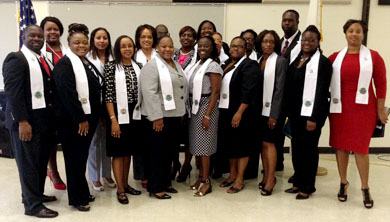 Graduates of the first VI CPM Program corhort gathered on St. Croix, above, and on St. Thomas, below, in August for their commencement ceremonies.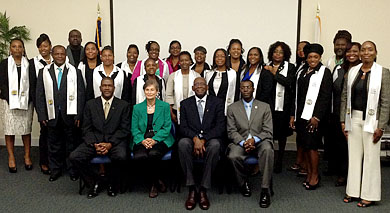 Individuals complete the nationally-accredited program in 12 months as part of a cohort or "colleague group." Classes are conducted at UVI's campuses on St. Thomas and St. Croix. Members of the group attend classes collectively, three days per month, becoming Certified Public Managers together upon successful completion. Applications for the 2014-2015 VI CPM Colleague Group will be accepted through Thursday, Sept. 25. Final selections will be made by Oct. 10, and classes begin on Oct. 28.
UVI President David Hall, Kenneth Hermon, Jr., director of the Division of Personnel, and Mary Hamilton, vice chair of the National Certified Public Manager Consortium, addressed graduates at the program's first graduation ceremonies in late August on St. Croix and St. Thomas. Forty-three supervisors and managers completed the 2014 CPM Program at UVI.
Additional details and application forms are available from the Employee Development section of the VI Division of Personnel website http://www.dopusvi.org and from this direct link. Information is also available by contacting the Division of Personnel at (340) 774-8588 or sending email to CPM@dop.vi.gov. At UVI, contact Dr. Haldane Davies at (340) 693-1004 or send email to hdavies@live.uvi.edu.