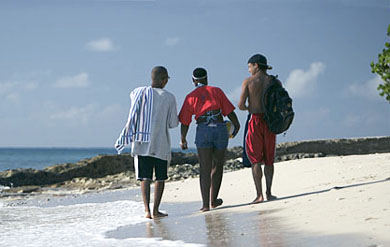 This Saturday will mark the beginning of Virgin Islands Coastweeks. The University of the Virgin Islands VI Marine Advisory Service (VIMAS) will coordinate Coastweeks beach cleanup activities in the territory from Sept. 20, through Oct. 31. Volunteers at beaches on St. Thomas and St. Croix will join thousands of people from around the world in the planet's largest volunteer cleanup on behalf of the marine environment. The Virgin Islands Waste Management Authority is a sponsor for Coastweeks cleanups.
Coastweeks was started by the Ocean Conservancy to help mobilize communities to take action against marine debris and find solutions to ensure trash free seas. "Marine debris, which can include anything from discarded plastics to personal care products, ends up in our oceans," said Howard Forbes Jr., VIMAS coordinator on St. Thomas. "Many marine organisms, including sea turtles, often mistake these items for food and consume them, which can harm or even kill the animal."
 "UVI has been coordinating Coastweeks activities in the Virgin Islands for over 20 years," said Marcia Taylor, UVI VIMAS coordinator on St. Croix. "This event engages the community in a positive activity and promotes stewardship of our environment." During Coastweeks, VIMAS works to increase awareness about marine debris and records data on the amount of trash collected and areas cleaned. The information is analyzed and submitted to the Ocean Conservancy along with the data collected from other countries and then combined in the conservancy's annual report on International Coastal Cleanup. 
At last year's Coastweeks events, the Virgin Islands mobilized 943 volunteers and cleaned 7,787 pounds of trash from a total of 19.4 miles of coastline. "I am hopeful that this year we can get more volunteers to come out and support the cause, because this is something that is of concern to everyone in the territory and nationwide," said Forbes.
"Approximately 70 percent of the Earth is covered in water, so then why shouldn't 100 percent of it be clean?" He continued, "Having clean beaches is great for beachgoers, but it also assists baby sea turtles by providing safe nesting habitats. The more support we can bolster, the greater our impact will be towards having our paradise remain clean."
To kick-off Coastweeks on St. Croix, there are three beach clean-ups scheduled for this Saturday. Good Hope and Country Day schools will be cleaning Columbus Landing. St. Joseph High School will be cleaning Little Bay. The Educational Complex and UVI's Phycology Club have volunteered to clean Dorsch Beach. The Environmental Club at Central High School will be cleaning on the south shore of St. Croix. All cleanups are scheduled to take place from 9 a.m. to noon.
Beach cleanups on St. Thomas have been scheduled from 9 a.m. to noon on Sept. 20, on Brewers Bay and from 9:30 a.m. to noon on Hassel Island. Volunteers are needed. Transportation will be provided to get to Hassel Island. Volunteers are asked to catch a boat shuttle in Frenchtown near Hook line and Sinker before 9:30 a.m. They will be taken to various beaches on Hassel Island. 
All volunteers should wear clothing that will protect them from the environment. Closed shoes, sunblock and hats are recommended. Gloves and garbage bags will be provided. The VI Waste Management Authority will help transport and dispose of the trash that is collected.
VIMAS is assisting local groups, clubs and schools to organize and conduct shoreline and underwater cleanups as part of the Coastweeks activities. There will be beach cleanup activities from 9 a.m. to noon on Oct. 5, at the Coki Point Beach and at Water Bay Condos. 
Many additional cleanup activities have been set for St. Croix, including:
On Sept. 27, the St. Croix Environmental Association will be cleaning Southgate Coastal Reserve.
On Oct. 1, AZ Academy will be cleaning Christiansted Harbor near the seaplane dock.
On Oct. 4, the VI Olympic Committee will be cleaning Half Penny Beach.
On Oct. 18, the CRABBs Dive Club, along with students from the St. Croix Educational Complex, will be doing an underwater and land cleanup of Fredericksted Pier.
On Oct. 18, the Central High School Reserve Officer Training Core will be cleaning Dorsch Beach, from the pool to the fishermen's pier.
For more information or to organize a cleanup on St. Croix please call Marcia Taylor at 692-4046, or email mtaylor@uvi.edu. On St. Thomas, interested persons should call Howard Forbes Jr. at (340) 513-7203 or send email to hforbes20@hotmail.com. On St. John, contact Karen Jarvis at the Friends of the National Part at (340) 779- 4940.