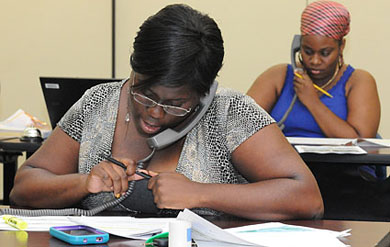 The University of the Virgin Islands family joins forces with alumni and special alumni on Sept. 23, 24 and 25 for the 2014 Alumni Phonathon. This year's Phonathon continues the University's successful and historic efforts to reach alumni giving rates among the highest in the nation. The push, begun in 2012, reached the 52 percent level in 2013, a record for Historically Black Colleges and Universities (HBCUs). Volunteers will be placing calls from 5:30 to 9 p.m. each evening.
File Photo: Volunteers placing calls during the 2013 Alumni Phonathon.
This year's Phonathon, dubbed the "First to 50 Challenge: Reloaded," is on track to maintain and likely better that historic achievement, according to UVI Director of Annual Giving and Alumni Affairs Linda I. Smith.
"Members of the UVI family have a chance to be part of history as the University makes final plans for the 2014 UVI Alumni Phonathon fundraising effort," Smith said. "The current campaign stands at a 45 percent alumni giving rate, just five percent shy of achieving another nationally historic goal. Reaching this goal has placed UVI among the "who's who" of HBCUs, some of which are more than a century older than UVI."
Smith said that alumni, locally and from all over the region, are excited about reaching this goal. "They are bonding together to make sure we reach this goal for the second consecutive year, including our alumni living on other Caribbean islands." She said the dedicated Alumni recruitment team on Anguilla has already secured 73 gifts – and has challenged associations on all the other islands to reach or exceed that number of donors.
Locally, one donor has issued a challenge, pledging to meet, dollar-for-dollar, any pledges of $52 or more (commemorating UVI's 52 years of existence), up to a total of $10,000. The challenge, which is for pledges received from Sept. 15 to 30, was also extended to donations from first-time contributors.
This year's Phonathon will feature a revamped format, including a special, live broadcast on DaVybe radio, WLDV 107.9, on air and online – from  6 to 9 p.m. on Tuesday, Sept. 23. "In deh Game" sports show hosts will conduct a number of interviews, with a focus on athletics at the University. Former UVI Coach Elridge Blake will discuss the Coach Blake Athletic Scholarship Fund. A number of student athletes will also be interviewed, including two members of the UVI Buccaneers soccer team, which will be playing the first-ever home-game on the Albert A. Sheen Campus on St. Coix on Saturday, Oct. 4. Miss UVI Elisa Thomas is also scheduled to call in to the show from the HBCU Hall of Fame Competition in Atlanta, where she is competing.
"This is an exciting time for the institutions because of all the academic plans and offerings in the pipeline. So we need everyone's support," Smith said. "We've revamped the program and we encourage everyone to get involved." During the remainder of September – which Smith has designated the Great Alumni Challenge Month – her office will be open daily until 8 p.m. to answer questions about the donation and to process online processing. On Sept. 30, the office will be open from 8:30 a.m. to 10:30 p.m. for the final push. "This is something we did last year and we had the largest fundraising day in UVI history," Smith said. For information call (340) 692-4023.
Additional volunteers for the Phonathon are also still being sought for the crew which will conduct Phonathon calls from 5:30 to 9 p.m. on Tuesday, Sept. 23, Wednesday, Sept. 24, and Thursday, Sept. 25, from the Administration and Conference Center on UVI's St. Thomas Campus.
Volunteers – approximately 60 are needed – will make phone calls to update alumni contact information, and process pledges and contributions. An orientation session for volunteers is scheduled from 5:30 to 7 p.m. on Monday, Sept. 22, at the Phonathon venue. Dinner, as well as a $20 stipend, is provided nightly for each volunteer. Prizes will also be awarded to all volunteers and to top donors. To sign up, contact Senior Coordinator of Donor Relations and Special Events Liza Margolis at lmargol@uvi.edu or call (340) 693-1053.