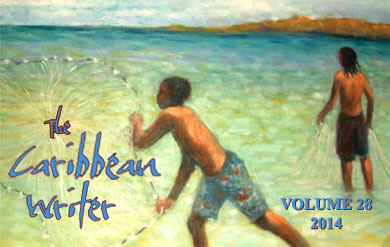 The Caribbean Writer has launched Volume 28 of the University of the Virgin Islands' international, refereed, literary journal with a Caribbean focus. This volume is overflowing with brilliant, insightful, imaginative writings highlighting the concepts of time, place and memories. The general public is invited to a book launch party from 6 to 9 p.m. on Wednesday, Oct. 15, in the Great Hall of the Albert A. Sheen Campus on St. Croix.
"We are pleased to continue in the tradition of excellence which both the University and The Caribbean Writer represent with this new volume of the journal," said UVI President David Hall. "It is this spirit of excellence that has ensured the success and vitality of the journal for so many years."
Volume 28 features poetry, short-stories, one-act plays, personal essays and book reviews by established as well as emerging writers from the entire Caribbean region and the Caribbean diaspora. In addition, in recognition of the upcoming 100th anniversary of the transfer of the Virgin Islands from Denmark to the United States, there are three portraits of Virgin Islanders who lived during that period: Cyril Francois of St. Thomas, Marie Helener Branch nee Philips of St. Croix and Marjorie Clendinen, a St. Thomian with Crucian connections. This commemorative narrative was extensively researched by Edgar Lake, using historical documents, actual newspaper articles, and interviews with family members to construct a compelling story based on the facts of the day.
Additionally, personal essays touch on experiences from the Bahamas, St. Kitts, Montserrat, Puerto Rico, Cuba, Jamaica and others. The volume also features interviews with two of the Caribbean's most prestigious writers, Derek Walcott from St. Lucia, a poet and playwright who won the Nobel Prize in 1992, and Edwidge Danticat of Haiti.
This volume of The Caribbean Writer is edited by Alscess Lewis-Brown, a local author who is widely published and who has served on UVI's adjunct faculty since 1990, teaching courses in writing, the humanities and literature.
"It was really an honor and privilege to have had the opportunity to edit this volume," Lewis-Brown said, reflecting on the approximate 300 submissions which were reviewed in order to select the pieces for final publication. She thanked the journal's editorial board whose members participated actively in the paring down process and who contributed greatly to this keepsake publication. The editorial board includes UVI faculty members Dr. David Gould, Dr. Vincent Cooper, Dr. Patricia Harkins-Pierre, and Edgar O. Lake, a local poet and novelist. Lewis-Brown also thanked administrative specialist Rosetta Romain, who has recently joined The Caribbean Writer staff, for her hard work.
Copies the Caribbean Writer are $25. They can be ordered by emailing Rosetta Romain at orders@thecaribbeanwriter.org. Orders can also be placed on the website www.thecaribbeanwriter.org via a secure server order page.