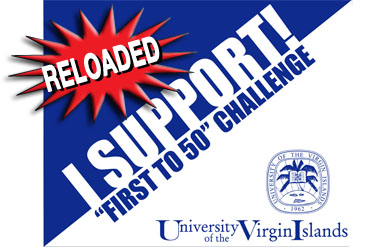 The University of the Virgin Islands has achieved an alumni giving rate of 52.49 percent for fiscal year 2013-2014 – which is the highest alumni contribution rate of any Historically Black College and University in the nation, UVI President David Hall announced on Wednesday, Oct. 22, from an alumni celebration on the Albert A. Sheen Campus on St. Croix. "We are number one," said Dr. Hall. "There is no HBCU that has numbers like this. If you go outside the HBCU realm, there are very few institutions that go beyond 52 percent."
When President Hall arrived at UVI in 2009 the alumni contribution rate was six percent. The University first sought to substantially increase its alumni giving rate in 2012, with the "50 for 50" challenge. UVI alumni made history with a 42 percent alumni giving rate, which was a 223 percent increase from previous years. As a result, UVI's alumni received the 2013 Historically Black Colleges and Universities Alumni Association of the Year award. In 2013, UVI launched the "First to 50" challenge, and UVI's alumni reached an alumni giving rate of 51.73 percent.
 "If the alumni feel that the institution has assisted them in achieving their dreams, then they give back to the institution," said Dr. Hall. "When alumni believe that the institution is continuing to invest in students and doing a very good job nurturing the next generation, then they give back. That is why it is used as a measure of where the institution stands."
"If we were just achieving this for one year, then you could say that's a fluke, but for three years in a row to be between 42 and 52 percent says that this is a pattern," he said. "This is what our alumni are saying to us about how they feel about this institution and, to me, that this is significant and important."
UVI Director of Annual Giving and Alumni Affairs Linda I. Smith, class of 1998 and 2003, has headed up the alumni contribution effort for the past several years. She joined UVI in 2008, when the alumni giving rate was at four percent. "As the only HBCU in the Caribbean, the community has rallied around initiatives and campaigns and they have provided us with support – helping us to reach and maintain our historic goals," said Smith.
Alumni throughout the Eastern Caribbean region under the leadership of UVI's Dedicated Alumni Recruitment Teams and those in the United States mainland played a significant role in this accomplishment, she said. "To everyone who believes in paying it forward or giving back, we thank you for believing and making a difference in the lives our students. This is our hometown University."
Smith added, "It is a joyful time for the University, knowing that we are competing against institutions that are hundreds of years older than us. Despite all of their notable alumni and friends, here it is that this small HBCU in the Caribbean is making history."  
"We need to remember to support our HBCU's because they were created to continue to afford us the right to a quality education, at an affordable and competitive price while being globally sensitive and steeped in our distinct history," said Miss UVI Elisa Thomas, who was recently crowned Miss National Black College Alumni Hall of Fame. "While the 105 HBCUs represent just three percent of the nation's institutions of higher learning, they graduate nearly one-quarter of African Americans who earn undergraduate degrees. HBCUs graduate 75 percent more of their African American students than other schools do," Thomas said.
"First to 50 Champions Back in the Winner's Circle" was selected as the fiscal year 2014-2015 alumni challenge theme. The 2015 challenge is the most important, as the University must maintain three consistent years of 50 percent or greater for the historic record to be officially noted within the annals of history, said Smith. The new theme was selected as part of a contest. UVI alumna Lorna Chesterfield, class of 1994, won two tickets to see Kirk Franklin perform at the Reichhold Center for the Arts on Feb. 7, for her winning submission. Mary Jo Williams won a copy of UVI's commemorative historical book "Proud We Are" and Fiola Alexander, class of 1992, received a customized UVI mug in the contest.