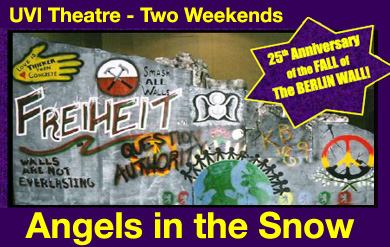 UVI Theatre open its 2014-2015 season with an ambitious, two-weekend run of the powerful and internationally-acclaimed musical "Angels in the Snow: The Berlin Wall Musical Drama," at the UVI Little Theatre on the St. Thomas Campus at 7:30 p.m. on Friday, April 14.
Performances are scheduled for Fridays through Sundays, on Nov. 14 to 16, and Nov. 21 to 23. The show will be staged in the UVI Little Theatre, located in the CA Building. Friday and Saturday performances are at 7:30 p.m., and Sunday matinee performances are at 2 p.m.
"Angels" tells the passionate inter-generational story of three couples separated by the Berlin Wall, and the bloody crises they face as they try to reach each other and survive. The production was planned to coincide this week's 25th anniversary of the fall of the Berlin Wall – the Cold War icon which divided the communist East of the city from their fellow Germans in the West – in 1989.
The production is written, directed and designed by Dr. Doug Larche, professor and playwright-in-residence at the University. Dr. Larche has assembled an on-stage cast of more than 30-persons, composed primarily of UVI students, alumni, faculty and staff. The music was composed by Dr. Larche, his late son, Jason, and Susan Elliott.
"Angels" features twenty original songs, German folk songs and carols, and a 43-piece orchestral sound track. It has been produced at the United Nations, in New York City, in four languages at the Kybernetichisky Theatre in Ukraine, at an International Perestroika Festival, an International Theatre Festival on the San Antonio River Walk, and in numerous university, community and school theatres across America.
According to Dr. Larche, the production explores the lives of the couples affected against a dramatic back drop of East German Communist Leader Erich Honecker, soldiers, infidelity, torture, eco-terrorism and The Wall, which stand between them for 28 years. It is also a romance featuring unrequited love, desperation, death, and ultimate triumph and reunion. "With sweetness, joy, laughter, nostalgia and hope, woven upon a tapestry of non-violence, environmentalism and the search for peace, Angels offers grace notes to the Holiday season," Larche said.   
The Cast
Playing the lead couples are Julisa Marcel, Estelle Andrew and Jonel Emanuel in the roles of Elise, Helen and Katrina. Darryl Williams and Kevon Browne share the role of Dieter, while Paul Maynard, Jr., Noel Charles, Max Cymerint and Dr. Doug Iannucci play the roles of Kurt, Manfred, Wolf and Herr Burkhardt. East German historical characters are portrayed by Charles Martin, Jr., as East German Supreme Leader Erich Honecker, Dr. Alex Randall and Dr. Stan Latesky, as Chairman Walter Ulbricht, and Christopher Williams as Herr Von Stein.
The powerful Environmentalists' Ensemble is composed of Sherrika Industrious, Kevon Browne, Kat Callwood, Oldain Claxton, Liliana Moreno Reyes and Kadesiah Bellott. The Environmentalists' Chorus includes Asenee' Flaherty, Evamae Warner, Brandon Bougouneau, Kia-T Nique Thomas, Ebone' Adams, Amanda Bannis and Rita Green.
On-stage 'People at the Wall' include Dr. Patricia Harkins-Pierre, Dr. Violeta Donovan, Dr. Emily Carter, Dr. Vincent Cooper, Professor Linda Wymer, Julie Cruz, Eve Chamberland, Baby Serenity Lopez and many of the production's crew members.
Sherrika Industrious and Ebone' Adams are assistant directors. Nicole Moore is production associate, while Detra Davis serves as chorus coach. Darryl Williams, Jae Knight and Doug Salisbury are technical consultants, while Dr. Rosary Harper is costume consultant. Denise Humphrey is an associate producer. The production crew includes Sherrika Industrious, Khalin Nisbett, Julie Cruz, Emily Gireau, Serenity Garcia, Deeno Cumberbatch, Semonie Rogers, Kiana Rawlins, Tayla Manners, Techelle Evans, Raisa Cuffy, Reginna Scotland, Denine Hurtault, Stefan Todman, Shaune Saunders, Tianna Smith, Nakashema Cassel and Manuel Lopez, along with members of the cast.
Tickets
Tickets – $8 and $12 – may be purchased during office hours at the UVI Humanities Building, at the UVI Bookstore, or at the door at the Little Theatre in the CA Building. They may also be reserved by calling (340) 693-1340. Seating is extremely limited. Call Dr. Larche at (340) 693-1341 or send email to dlarche@uvi.edu for additional information.