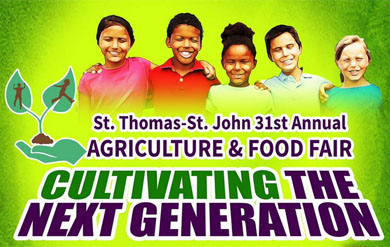 The 31st annual St. Thomas/St. John Agriculture and Food Fair is scheduled for Saturday and Sunday, Nov. 22-23, on the grounds of the Reichhold Center for the Arts on UVI's St. Thomas Campus. The fair runs daily from 10 a.m. to 6 p.m. Admission is $3 for adults and $1 for children under 12.
The 2014 theme is "Cultivating the Next Generation" and Carlos Robles, vice president of the fair committee, said visitors will notice a significant presence from the territory's young people. "We're looking to encourage the next generation of commissioners, Extension Service employees, researchers, farmers and entrepreneurs to explore the possibilities awaiting them in agriculture," Robles said. "To do that, we're highlighting what young people are already doing and encouraging others to get involved."
The official fair opening ceremony is scheduled for 2 p.m. on Saturday, Nov. 22. Members of the Future Farmers of America Chapters at Ivana Eudora Kean and Charlotte Amalie high schools will be front and center serving as co-masters of ceremonies for the event. Young people from UVI's 4-H program will present the invocation.
Additionally, the fair committee will recognize five school on St. Thomas and St. John which conduct gardening programs or projects for their students.  
V.I. Department of Agriculture Commissioner Dr. Louis Petersen, Jr. and UVI President Dr. David Hall will also make remarks during the ceremony. And Cooperative Extension Service State Director Kwami Garcia will speak. Quadrille dancers from several schools will also provide dance exhibitions at the conclusion of the opening ceremonies.
The main draw of the fair – as always – will be displays of fresh produce, plants, and arts and crafts. Numerous booths will offer local food specialties for sale. Another fair highlight will be numerous informational displays on a variety of ag-related topics, including composting workshops and tree grafting demonstrations. Robles also said the arts and crafts section this year is the largest yet, with some 25 vendors expected to be on hand. "We have really tried to feature unique, local, handmade items," he said. And, as always, a large area will be set aside for vendors offering a wide variety of local and nursery plants.
Contestants in the annual sweet bread competition can still sign up by Nov. 19. And, for the second time, the fair will include a coal pot lighting contest on Sunday at about 4 p.m. The competition is designed to provide an entertaining and educational perspective on Virgin Islands history and culture. Interested individuals can sign up at the event.
The traditional livestock area – always a big hit with young and old alike – will feature some of the territory's prize winning and otherwise unique animals.
Finally, two activities designed to appeal to the young, and young-at-heart, are planned during the fair. These will be a large water slide, for the youngsters, and both pony and horseback rides, for both young people and adults.
The fair is organized by the St. Thomas/St. John Agriculture and Food Fair Committee, in cooperation with the University of the Virgin Islands Cooperative Extension Service (CES) and the Virgin Islands Department of Agriculture, and support from Fintrac. For details contact the CES office at (340) 693-1080. Updates are also available on the fair's Facebook page: http://www.facebook.com/uvices.