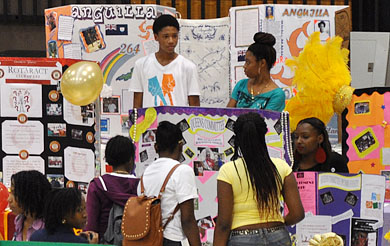 A Fall Fest for students on UVI's St. Thomas Campus will be held from 10 a.m. to 2 p.m. on Friday, Oct. 3. The theme is "Putting the Pieces Together." The "pieces" of the Fall Fest are a Health and Wellness Fair, a Career Fair, and an Activities Fair.
FILE PHOTO: The Activities Fair of the 2013 Fall Fest draws lots of interest.
This year the fair, which is open to the public, coincides with an open house on UVI's St. Thomas Campus sponsored by the University's Access and Enrollment Office," said Counseling Supervisor Dahlia Stridiron, one of the organizers. So, while on campus for open house activities such as exploring admissions requirements and deadlines, financial aid, and available scholarships, high school seniors and graduates will be able to sample many of the fall fest activities. "It will provide a good overview of the activities and services that we offer at UVI," she said.
A number of especially interesting activities will be included in this year's fest, along with the traditional health screenings, career building opportunities and student activities offerings, said Career Services Counselor Verna Rivers, who is also helping to organize the day. "We'll have an especially large presence from law enforcement organizations participating in the Career Fair. And a special texting while driving simulator will be provided by AT&T in support of the national 'It Can Wait' anti-texting while driving campaign." She said there will also be a chance for job seekers to visit the "resume mechanics shop. "This will help them to see if their critical documents need a tune up or a complete overhaul."
The resume mechanics shop will be presented by a representative from the Thurgood Marshall College Fund, a national organization which helps students and alumni from member schools, such as UVI, develop their leadership skills and connect with employers, Rivers said. Those polished resumes will become valuable tools for students meeting with recruiters who will be on hand for the Job Fair section of Fall Fest. Representatives from more than 20 companies and law enforcement agencies are signed up to participate. "It's a great opportunity for students to make direct connections with potential employers, and to develop their networking skills," she said.
UVI students and employees, as well as the general public are encouraged to take advantage of the Health Fair's preventive screenings. Ronda Herbert, UVI's Health Services Supervisor on St. Thomas, said screenings at previous events have alerted participants to pre-hypertension and pre-diabetic conditions. "Knowing the situation can spur individuals to begin taking preventative measures to avoid diseases," Herbert said. "Being able to offer free health screenings for everyone is something that I look forward to every year," she said. The health screenings will be offered by UVI's Health Services, UVI student nurses and other community health care providers. The mental health screenings are free, anonymous and confidential.
And finally, for those who have yet to get registered to vote in the upcoming elections, UVI's Student Activities Office will offer a voter registration effort. "We've organized this as a service to our students, and the general public is invited to take part as well," said Student Activities Supervisor Leon Lafond.
Here are the specific offerings of each component of the Fall Fest. The activities will take place at the Sports and Fitness Center.
Health and Wellness Fair
Free Screening: blood pressure, weight management, HIV
Massage therapy and other stress reduction techniques
Fitness demonstrations, health education and counseling
Mental health screenings
Career Fair
Get expert advice on your resume.  
Network with professionals.
Find out about internship opportunities.
Search for full-time and part-time jobs.
Activities Fair 
Sharing information about the Student Government Association (SGA) and the wide variety of clubs and organizations available to students on campus.
V.I. Voters Registration: Persons eligible to register should bring identification - a birth certificate or U.S. passport or military discharge form or a naturalization certificate.
Campus Resources Guide: Find out about campus resources and meet representatives from UVI's five Academic Divisions.
The Fall Fest is sponsored by UVI's Division of Student Affairs and the Admissions Department. Call (340) 693-1111 or 693-1124, 693-1136 or 693-1087 for more information.