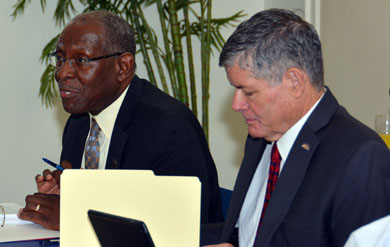 In a special meeting of the University of the Virgin Islands Board of Trustees held on Feb. 13, the Board approved a resolution authorizing the fiscal year 2015-2016 Government of the Virgin Islands appropriation request of $29,654,053. The request is $100,000 more than the current fiscal year appropriation, in order to support the Distinguished Professorship in International Relations and Diplomacy – created in honor of Ambassador Terence A. Todman through V.I. Act no. 7647.
The Board also approved a resolution authorizing the University to enter into a loan, not to exceed $21,000,000, with the U.S. Department of Education Historically Black College and University Capital Financing Program for the construction of buildings for the UVI School of Medicine.
The Board of Trustees last met on Nov. 17, 2014 in a special session. The Board is scheduled to meet on March 7, on the Albert A. Sheen Campus on St. Croix.