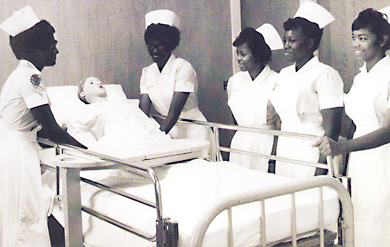 University of the Virgin Islands nursing alumni, faculty and friends will celebrate 50 years of Nursing Education with a reunion on May 15-16 on St. Thomas and on May 17-18, on St. Croix. The theme of the celebration is "Caring and Making a Difference."
The University's nursing program, which started with 25 students in 1965, has over 700 nursing graduates over the past 50 years. UVI alumni from all over the nation and Caribbean have been invited to attend.
"It is going to be a wonderful event," said Dr. Judith Grybowski, event coordinator and CVI/UVI professor emerita. "We expect nursing alumni from all over the world to gather at their alma mater to reminisce and make new memoires. We will celebrate our commitment to nursing, UVI and each other."
Dr. Grybowski, who began teaching at UVI in the late 1960's, said she organized the reunion because she wanted to give back something meaningful to UVI. "I am looking forward to connecting with former students, friends and colleagues who have been meaningful in my life," she said.
A variety of events, from beach picnics to formal dinners and receptions have been planned. A few of the highlights of the nursing reunion on St. Thomas include, a dinner dance at the Grand Hotel on Friday, May 15, and a beach picnic on Saturday, May 16, on Magens Bay.
Events on St. Croix include, a beach party at Cramer's Park and a meet and greet breakfast in the Great Hall on the Albert A. Sheen Campus. For a complete list of events and details visit the Alumni Affairs section of www.uvi.edu or use this direct link: Celebrating 50 Years of Nursing Education. Interested persons can register online using this link: Nursing Reunion Registration Form.  The registration deadline is April 27. Anyone who registers after midnight on this date will be charged a late registration fee of $10.  
As part of the reunion, nursing alumni have also been invited to participate in the 2015 nursing pinning ceremonies and the UVI Commencement Ceremonies. 

St. Croix:
Pinning Ceremony - 2 p.m. on May 11, Great Hall, Albert A. Sheen Campus
Commencement Ceremony - 1:30 p.m. on May 13, Albert A. Sheen Campus.
 St. Thomas:
Pinning Ceremony - 6 p.m. on May 12, St. Thomas Reformed Church
Commencement Ceremony - 1:30 p.m. on May 14, UVI Sports and Fitness Center  
For more information contact Linda Smith at (340) 693-4023.