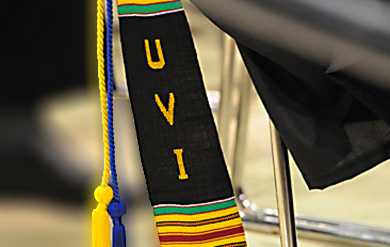 Members of the media are invited to photograph and cover the University of the Virgin Islands 51st Annual Commencement Ceremonies and student nursing pinning ceremonies during the week of Monday, May 11 to Thursday, May 14.
Nurse Pinning Ceremonies

UVI will host the 2015 student nursing pinning ceremonies on May 11, on St. Thomas and May 12, on St. Croix. Sixteen nursing students are scheduled to be pinned on St. Croix and 11 on St. Thomas. The students will take a sacred oath of commitment, the Florence Nightingale Pledge, at the ceremony.
Commencement Ceremonies

More than 260 degrees will be awarded by the University during Commencement Ceremonies on both campuses. The class speakers will be Angelina A. Haywood, who will earn an Associates of Science Degree in Nursing on St. Croix, and Nichole Etienne, who will earn a Bachelor's of Science Degree in Computer Science on St. Thomas.
Lawyer, writer, activist and children's advocate Marian Wright Edelman will be UVI's 2015 keynote speaker. Joining Edelman in receiving UVI honorary degrees at the 2015 Commencement will be former Gov. Charles W. Turnbull and former educator Dr. Ruth Harrigan Beagles.
What: 2015 Annual Pinning Ceremony – Sheen Campus
When: Monday, May 11
Time: 4 p.m.
Where: UVI Great Hall – Albert A. Sheen Campus 
What: 2015 Annual Pinning Ceremony – St. Thomas
When: Tuesday, May 12
Time: 6 p.m.
Where: St. Thomas Reformed Church – St. Thomas

What: 2015 Commencement Ceremony - Sheen Campus
When: Wednesday, May 13, 2015
Time: 1:30 p.m.
Venue: Grounds - Albert A. Sheen Campus - St. Croix
What: 2015 Commencement Ceremony - St. Thomas Campus
When: Thursday, May 14, 2015
Time: 1:30 p.m.
Venue: UVI Sports and Fitness Center - St. Thomas Campus
Contact: UVI Public Relations Office - (340) 693-1057