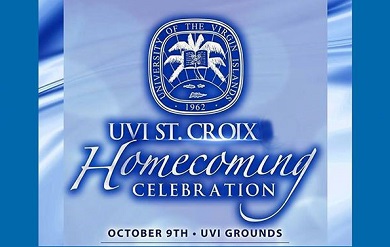 The University of the Virgin Islands Bucs Men's Soccer team picked up a 3-1 win over Caribbean University on Friday, Oct. 9, at a Homecoming match on the Albert A. Sheen Campus on St. Croix. The Bucs soccer team, on five match winning streak, are in first-place in Liga Atletica Interuniversitaria League play, said Dr. David Santesteban, UVI interim athletic director. Caribbean University was undefeated until Friday's match.
Coach Santesteban said the team played well amid pressure to win at UVI's Homecoming celebration. The 12th man was in effect at the match with fans cheering and bringing electric excitement to the field, he said. In the first three minutes of the game, Joseph Espinal scored the first goal with an indirect free kick. Mackean St. Croix scored the second goal with an assist from Joseph Espinal. The match was 2-0 in the half and Coach Santesteban asked the team not to let up and to score an insurance goal. The final Buc score was made by Jaylen Lake, with an assist by Mackean St. Croix.
UVI's next two matches will be at home on Wednesday, Oct. 14 and Saturday, Oct. 17. For updates on the game schedule visit http://athletics.uvi.edu.
The Bucs Soccer match was just one of the highlights of UVI Homecoming celebration on the Sheen Campus. The Bucs strode onto the field in a pre-game parade complete with UVI President David Hall as grand marshal and Miss UVI Katherine Callwood, University royalty. UVI's student leaders were also on the parade route in convertible vehicles, and music performed by a DJ kept everyone in step.  The soccer players from UVI and Caribbean University marched side by side in Friday's parade. The soccer match was attended by UVI students, faculty, staff and alumni, including Sen. Kurt Vialet. The match was followed by a post-game pep rally. At the Homecoming celebration held on Friday evening, Gabriel Lawrence was crowned homecoming king and Angelique Flemming was crowned homecoming queen.