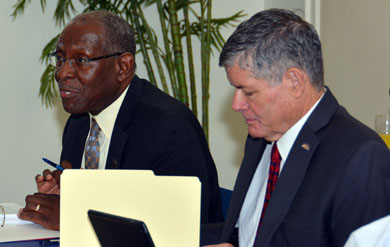 The University of the Virgin Islands Board of Trustees will meet at 9 a.m. on Saturday, Oct. 24, in the Great Hall on the Albert A. Sheen Campus on St. Croix.  
The meeting will begin with regular session agenda items. UVI President Dr. David Hall will present the President's Report. He will be followed by Board Chairman Henry Smock with the Chairman's Comments. The Board will receive an update report from the Research and Technology Park. Then the Board will consider other agenda items.
The Development Committee will present a status report on fundraising and take action on the fundraising goal and the Alumni participation goal for fiscal year 2016. The Finance and Budget Committee will present a recommendation for action on the Tuition Overload Policy and on the Fiscal Year 2016 Proposed Operating Budget.
The Planning Committee will present UVI's key performance indicators. The Board will go into executive session and will report any actions taken in executive session before being adjourned.
The Board last met in a special session on Aug. 29. A complete list of Board meetings is available on the Board of Trustees page of the UVI website www.uvi.edu and from this direct link.