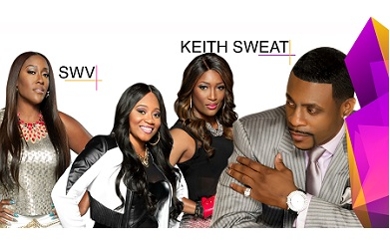 The Reichhold Center for the Arts opens its gates for 2016 with a throwback performance with R&B troubadour Keith Sweat and the widely popular 90's female vocal group "SWV." "Join us at 8 p.m. on Saturday, Jan. 23, at the Reichhold Center and revel in an evening of quality soul, rhythm and blues music," said Denise Humphrey, of the Reichhold Center for the Arts.  
 "With 14 albums, countless billboard topping hits, American Music Award wins and nominations, it is evident that Keith Sweat will deliver a momentous performance as the main act of the evening," said Humphrey.  
Sweat, R&B singer and songwriter, is well known for his distinctive new jack swing style of R&B, which is a form that incorporates contemporary soul, hip-hop and high-tech funk.  Upon the release of his debut album "Make It Last Forever" in 1987, he kicked off this unique sub-genre of R&B and soul. He has a cadre of hits from that album such as "I Want Her," "Make It Last Forever," and "Something Just Ain't Right" all of which topped the R&B charts.
Sweat has also collaborated with a myriad of artists from "The O'Jays" to "Xscape," and was a member of the super group "LSG" consisting of himself, Gerald Levert, and Johnny Gill.
Grammy nominated female trio "SWV" will take the stage during the second half of the evening. "SWV" made their debut album "It's About Time" in 1992 with a string of top ten R&B hits that established them as one of the most popular R&B groups of the 90's. "SWV," an acronym for Sisters with Voices, is comprised of three school friends Cheryl "Coko" Gamble, Tamara "Taj" Johnson, and Leanne "Lelee" Lyons. With hits such as "I'm So Into You," "Weak" and "Right Here/Human Nature," a remix of their first single that featured samples of Michael Jackson's hit "Human Nature;" "SWV" is sure to be a great compliment to the evening of R&B and soul.
Humphrey said the evening will be capped off with one of Reichhold's famous after parties with music from local disc jockey "Tony T" of 105 Jamz. Memories of the 'Good Ole Days' is sure to be had with this performance. The Reichhold Center's 37th season is sponsored by International Capital and Management Company, VI Lottery, Innovative, Marriott Frenchman's Reef Resort, Tropical Shipping and the VI Council on the Arts. The Reichhold Center for the Arts is the flagship performing arts center for the University of the Virgin Islands.
For tickets, visit Reichhold Center's Box Office or call (340) 693-1559. For more information on the Reichhold Center and the 37th season or to purchase tickets visit www.reichholdcenter.org. For inquiries into sponsorship and Stagebill advertising contact Ian Turnbull at ian.turnbull@uvi.edu or (340) 693-1554.