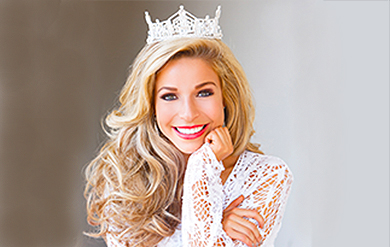 Members of the media are invited to cover and photograph Miss America 2015 Kira Kazantsev as she brings awareness of domestic violence to the University of the Virgin Islands. The event will be held from 3:30 p.m. to 5 p.m. on Friday, Jan. 22, in Business Building, room 110, on the St. Thomas Campus. Her address will be video conferenced to the Melvin Evans Center, room 401, on the Albert A. Sheen Campus on St. Croix.
Kazantsev is an advocate of women's issues and will share her personal story of survival and raise awareness of domestic violence. She has made it her mission to be an advocate for victims. The Family Resource Center, Inc. (FRC) invited Miss America to the territory as part of their annual Peacemaker Gala and have partnered with UVI to bring Kazantsev to the University's campuses.
The public is invited to hear her story. Her goal is to reinforce her message – it's time to end domestic violence.
 What:   Miss America 2015 Speaks on Domestic Violence            
When:  Friday, Jan. 22  
Time:    3:30 p.m. – 5 p.m.
Where: UVI's Business Building, Room 110 – St. Thomas' upper campus and                         Albert A. Sheen Campus - Melvin Evans Center, Room 401 (video conferenced) 
Contact:         UVI Public Relations Office – (340) 693-1057 | pr@uvi.edu