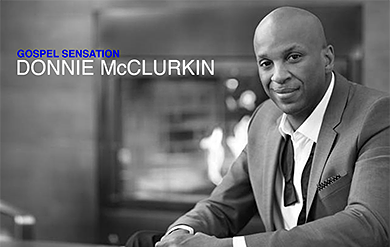 Grammy award winning singer and songwriter, Donne McClurkin will unleash the power of his signature raspy tenor in a gospel jubilee performance at the Reichhold Center for the Arts on Feb. 6. As one of the industry's top spiritual performers, McClurkin commands attention with his powerful rich vocals. His talent has propelled him to the top of the gospel charts, album after album, and his mantle is filled with a myriad of awards.
"With three Grammy Awards, eight Stellar Awards, four NAACP Image Awards and millions of albums sold; this performance will be a notable gospel concert for all who attend," said Reichhold Center Interim Director Denise Humphrey.
He is an amazing songwriter, with platinum and gold-selling CDs, that have not only penned chart topping tunes such as, "Stand" and "We Fall Down," but he has also worn the hat of producer on his projects. McClurkin's knack for nailing songs that others can identify with and serving them up with a compelling vocal delivery has helped him to carve out a spot in the hearts of millions.
McClurkin's skills has also caught the attention of movie producers. He has created tunes for movie soundtracks such as, "Lady Killer's" produced by New Line, "The Prince of Egypt" produced by DreamWorks and "The Goofy Movie" produced by Disney. From the concert stage to the big and small screen, fans have also seen this gospel crooner shine in cameo appearances on United Paramount Network's (UPN) "The Parkers," "Girlfriends," "Meet the Browns," and "The Fighting Temptations" in which Cuba Gooding, Jr. and Beyoncé Knowles starred.
"Donnie McClurkin's performance starts promptly at 8 p.m. and will be a non-stop presentation of high quality gospel music from one of the industry's best, so get your tickets early and don't miss it," said Ian Turnbull, Reichhold Center marketing manager.
The Reichhold Center's 37th season is sponsored by International Capital and Management Company, VI Lottery, Innovative, Marriott Frenchman's Reef Resort, Tropical Shipping and the VI Council on the Arts. West Indies Corporation and 105 Jamz are event sponsors as well. The Reichhold Center for the Arts is the flagship performing arts center for the University of the Virgin Islands.     
For tickets, come to the Reichhold Center's Box Office or call (340) 693-1559. For more information on the Reichhold Center and the 37th season, or to purchase tickets visit www.reichholdcenter.org. For inquiries into sponsorship and Stagebill advertising contact Ian Turnbull at ian.turnbull@uvi.edu or (340) 693-1554.