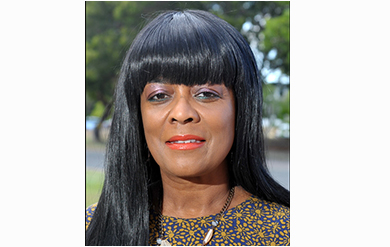 This spring, the University of the Virgin Islands welcomed a new dean of the College of Liberal Arts and Social Sciences (CLASS).  Dr. Emily Williams brings a wealth of experience in teaching, writing and editing within the humanities—with a specialty focus on Caribbean and African-Canadian cultural studies.
Dr. Camille McKayle, UVI provost and vice president of Academic Affairs, said, "UVI is pleased to have Dr. Emily Williams join us as the Dean of the College of Liberal Arts and Social Sciences.  She brings a wealth of administrative experience, having served in the role of chair, dean and founding dean at various institutions.  She is no stranger to the Caribbean, having been a Fulbright Scholar with a former residency at University of the West Indies in Jamaica, and is founding editor of the Caribbean Vistas online journal.  Her administrative background and her creativity and scholarship will enhance the ongoing work of the College of Liberal Arts and Social Sciences.  We are delighted to have her join our team."
Dr. Williams is the author of numerous books and papers exploring Caribbean and African-Canadian cultural studies. 
She comes to UVI after a 13-year career as a tenured professor at Morehouse College.  At Morehouse she taught courses in Caribbean Literature, British Literature, Literary Form, Beginning Composition and Advanced Composition.
During her tenure at Morehouse College, Dr. Williams was a Fulbright Scholar and Lecturer at the University of the West Indies (Mona Campus) in Kingston, Jamaica.  There, she fulfilled her love and passion for West Indian poetry and African American Literature, publishing the book "Anglophone Caribbean Poetry, 1970 – 2001."
Williams said her goal is to establish a firm and solid relationship with students within the CLASS division.
"My goal is to let the students know I am there for them.  I would like to have monthly town hall meetings with students and department chairs to hear directly from them and make sure we are connected," Williams said.
She added, "UVI is such a unique space. I am happy to be a part of a university that has so much diversity.  I hope my enthusiasm about being here will be infectious to students and faculty."
Her other plans include using her extensive background in literature to institute more literary events at UVI.
"I want UVI to be a destination university for people in terms of conferences on Caribbean literature, the arts and politics," Williams said.
In fact, Williams' relationship with UVI started with her work on a conference on Caribbean literature.
"In 2004 I was co-director of an International conference on Caribbean literature and I asked Dr. Jennifer Jackson (former Chancellor of UVI) if UVI would co-host it. We had people from all over the Caribbean, including Kamau Braithwaite as the keynote speaker."  Braithwaite is the Barbadian writer largely considered to be one of the major forces in Caribbean literature.
Williams has studied his work extensively and is credited as being a major scholar on the works of Kamau Braithwaite, having penned the book "The Critical Response to Kamau Braithwaite." (Prager 2004)
Along with that publication, Williams has a distinguished reputation as a scholarly writer, as author of books and papers such as: "Writing the Harlem Renaissance" in 2016; "Sights and Styles of the Harlem Renaissance" in 2016; "Beyond the Canebrakes: Caribbean Women Writers in Canada" in 2008; and "Changing Currents:  Transnational Caribbean Literary and Cultural Criticism" in 2006.
Williams is a native of New York City and Richmond, Virginia, who has spent extensive years pursuing her career in Atlanta, Ga. 
Her academic credentials are far reaching, including a certificate in Management and Leadership in Education from Harvard University, a Doctor of Arts in the Humanities from Clark Atlanta University; and a Master of Arts (Linguistics and Literature) from Virginia Commonwealth University.  She also has received a Presidential Fellowship from the Savanah College of Arts and Design, and a Fulbright Fellowship from the Fulbright Association for Research and Teaching at the University of the West Indies.