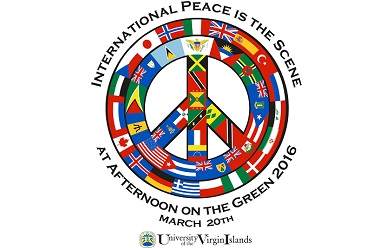 The University of the Virgin Islands will celebrate its 27th annual Afternoon on the Green with a focus on international cuisine and global peace.
This ever-popular family fun day will be held noon – 5 p.m., Sunday, March 20, on the Herman E. Moore Golf Course of the St. Thomas Campus. The theme for this year is "International Peace is the Scene, Afternoon on the Green 2016." The event is a "friendraiser" for the University. It is also a major UVI fundraiser that raises money for the Edward Thomas Scholarship Fund, helping needy students.
Each year thousands of residents spend their Sunday afternoon at UVI, milling around the golf course to enjoy a massive food tent filled with dozens of mouthwatering dishes, a vibrant children's play area, lively entertainment stage, informative academic tent and much, much more.
"Afternoon on the Green goes way beyond a University event, it is an island-wide event," said Liza Margolis, UVI senior coordinator of Donor Relations and Special Events. "Without the support of the community who donates the various dishes, or the individuals who cook pans of food, our numerous faithful sponsors and dedicated volunteers, Afternoon on the Green would not be possible. We are thankful this support has allowed us to continue this outstanding activity for 27 years."
A variety of aromas will waft through the air as volunteers unveil the dishes featured in the food tent, from international cuisine to traditional Caribbean cuisine. Some of the international dishes featured include the Spanish flavored pinon and Indian chicken tandoori. A host of traditional Caribbean favorites will be on hand, including seafood gumbo, shrimp and potato chowder, veggie roti, ital soup, pumpkin fritters, seafood kalallo and goat water. Desserts range from the exotic banana split cake and pumpkin/coconut cake to Vienna Cake and flavored cupcakes. Some of the refreshing beverages complimenting the food are ginger beer, sizzling sorrel, or Anegada Iced Tea.
Afternoon on the Green encourages members of the community to donate a dish to this fundraising event. Cooks have a chance to win prizes. Patrons vote on the dishes they like and prizes are given to top vote getters. This years' prizes include a Galaxy tablet from at&t, a weekend trip to St. Croix courtesy of The Buzz radio station, and four roundtrip tickets to Puerto Rico from Seaborne Airlines. Anyone who wants to donate a dish or volunteer can call (340) 693-1040 or visit http://aog.uvi.edu.
Along with the food, entertainment from local performers is one of the highlights of the event. This year's entertainment includes Cool Session Brass, All Xccess Band, the Mungo Niles Cultural Dancers, the UVI Dancers, Addelita Cancryn Marching Band and Dancers, EBO Steel Owls, the Macislyn Bamboula Dancers, the VI Senior Fitness Movement and Maturity Impact Band.
Kyza Callwood, Afternoon on the Green Committee co-chair, said "Afternoon on the Green creates a framework for family and fundraising excellence. This year's entertainment station is one of the center attractions of the event. Many of our entertainers are people who have graduated from UVI, which makes it more special."
Parents are encouraged to bring their children to enjoy many activities from bounce houses and face painting to traditional games and creating balloon animals.
UVI will also display the many degree programs, clubs and organizations available under an Academic Tent. Faculty, staff and students from Marine Sciences, School of Business, WUVI radio, and Hospitality and Tourism major will share their projects and activities with prospective students and the general public. Not to be missed is the auto parade, a crowd favorite, featuring a colorful display of vintage Mustang and Volkswagen vehicles. New this year is a photo booth, in which individuals or families can take portraits against an Afternoon on the Green backdrop.
This year's theme of peace was chosen to highlight UVI's status as a global institution of higher learning. "As a global institution with a diverse population, UVI wanted to highlight its concern about conflicts around the world. We want to stand united and promote peace because of the diversity we have on campus," said committee Co-chair Cherie Wheatley.
For more information leading up to the event the public can tune in to social media at https://www.facebook.com/UVI.edu or https://twitter.com/uvi.edu; or https://www.instagram.com/uvi.edu
Afternoon on the Green is made possible by generous sponsors, including: at&t, The West Indian Company, VI Council on the Arts, VI Water and Power Authority, St. Thomas Federal Credit Union, Thrive Chiropractic, VI Waste Management Authority, First Bank, Pro Solar, Lew Henley's Sewage Disposal, Seaborne Airlines, the Buzz Radio station, Bellows International, Merchants Commercial Bank, and MSI.