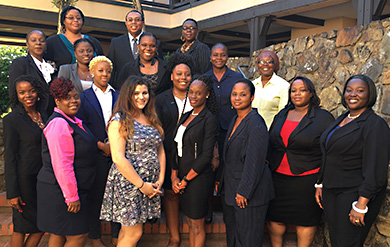 University of the Virgin Islands alumni and friends are asked to once again lend support to the annual UVI telephone fundraising drive to support academic scholarships for students in need.
This year's telephone fundraising is unique as it is campus-based and is the first student-run Call Center.  
More than 40 UVI students will organize and executive a Call Center program on the Albert A. Sheen Campus on St. Croix, to solicit donations from peers, alumni and the public to support UVI student scholarships and university programs. The Center will begin on Sunday, May 8, and runs through Thursday, June 30. The center will start again on Sept. 1, and run through Sept. 30.
 "I believe that this calling center is a great fundraising initiative," said Chawnique Schjang ('14), UVI alumni affairs coordinator and Call Center co-manager. "It will give us the opportunity to reach out to our alumni both near and far while allowing our UVI students to engage with alumni as well."  She continued, "This gives the program a special touch as these students will also be future alumni of the University. I am looking forward to this program and I'm pushing for that 50 percent mark. I hope that all UVI alumni will support this initiative."
Kimene Clouden-Jacobs ('12), a UVI graduate student working to administer the Call Center, encourages UVI alumni, donors and members of the public to make donations to UVI for many reasons. "When you make a donation, you sow a seed for an upcoming fruitful harvest," said Clouden-Jacobs. "The current generation and generations to come need scholarships to reach their goals."
  "This year we changed our strategy," said Linda I. Smith ('98, '03), director of annual giving and alumni affairs for UVI. "Our point of pride for this year's call center is it is powered 100 percent by our students who are eager to work together with our alumni."
She said, "UVI has had an unprecedented response from students and alumni eager to become part of the first ever campus Call Center team."
The UVI calling program is also more far-reaching than in years past. Calls will be made to alumni as far away as Canada, Europe and the Pacific region, reaching more than 10,000 members of the UVI alumni family worldwide.
One of the goals of this year's Call Center is for UVI to once again become the first Historically Black College and University (HBCU) to have an alumni giving rate of over 50 percent within a five-year period.
"In 2013 UVI achieved an alumni giving rate of 51.73 percent, which was the highest contribution rate of any historically black college and university in the nation," Smith said. "In 2014 we achieved a giving rate of 52.49 percent."
"We are coming together as a community in support of the University of the Virgin Islands students, helping them to achieve the goals that past alumni have successfully accomplished," said Lionel Farrington, Jr.,('13) Call Center manager who will graduate with the Class of 2016.
Smith said this year's Call Center will also reflect the diversity that is present on the UVI campus.
 "We have student callers who are from Antigua, Dominica, St. Kitts, the U.S. mainland, the U.S. Virgin Islands, the British Virgin Islands and other countries.  This means the calling center will be multi-lingual as our students speak English, Spanish and Creole," Smith said.
UVI alumni and supporters should expect phone calls Monday through Thursday between 5:30 p.m. and 9 p.m.  And on Sundays between 2 p.m. and 9 p.m.
 Donations can also be made online at http://donate.uvi.edu.