The University of the Virgin Islands will host the sixth annual Man Up Male Empowerment Conference on April 5 and 6, on St. Thomas and on April 7, on St. Croix.  
This year's Man Up Conference has a new format. In addition to having dynamic keynote speakers, young men attending the conference will be able to meet in smaller groups and be able to have their voices heard. This new approach is indicative of the theme "Man Up: All IN – INcluded, INvolved, INspired."
Also new this year, on St. Thomas the conference will be held for two days. On April 5, young males in junior high and middle school will meet at the Bertha C. Boschulte Middle School. On April 6, senior high school male students will meet at the Charlotte Amalie High School Auditorium.  The Man Up conference on St. Croix will be held on April 7, on UVI's Albert A. Sheen Campus. All events are from 9 a.m. to 2 p.m.
Dr. Haldane Davies, UVI vice president for Business Development and Innovation, said that each year the primary target groups of the Male Conference are junior high and high school males, college and university males, young men who desire to get back on the academic track and community leaders. "The fundamental message is that there is something very powerful about staying on an academic path and aiming for a university-level education," he said.
"The annual Man Up Conference provides a tremendous opportunity for our young men to learn from and be inspired by other successful men," said Dr. Sharon Ann McCollum, education commissioner. "The experience leads many of our students to pursue rewarding careers, helps them make better life decisions and allows them to dream bigger than they have before."
"It is something the Department of Education looks forward to participating in each year in partnership with the University of the Virgin Islands," she added. "I encourage all of our young men attending this year's conference to dig deep, forge relationships and leave inspired."
Keynote Speakers: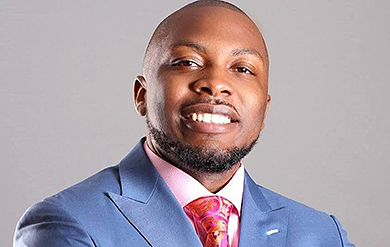 Sherman A. Browne, founder and chief empowerment officer of AIMHigh International, LLC, will be the keynote speaker of the Man Up Conferences on St. Thomas.  AIMHigh Empowerment Institute is an educational success, retention and graduation initiative that has yielded significant results in improving the academic, personal, professional and social outcomes for young men of color. The program has helped many young men remain engaged, educated and empowered while developing competence, confidence and character. In 2015 Browne, as a result of his work with AIMHIGH, he was awarded "The Educator of the Year" award by the Williams Bridge Branch of the National Association for the Advancement of Colored People (NAACP). He also received Citations of Merit from New York State Assembly, New York State Senate and the New York City Council.
Former Labor Commissioner and entrepreneur Albert Bryan, Jr. will be the keynote speaker on St. Croix.  In 2002, Bryan co-founded Generation Now, a non-profit organization dedicated to educating the public on key political and social issues, offering mentorship, performing community service, and providing leadership seminars.
He has also served on the executive board of the Young Democrats and other organizations where he has been a tireless lobbyist for the improvement of life in the U.S. Virgin Islands.
 In 2010 he received the "Bill La Motta Community Service Award" for distinguished service from the St. Thomas-St. John Chamber of Commerce.  He was also recognized by the Rotary Club of St. Croix as the "Person of the Year," and by the Zeta Phi Beta Sorority for his community service engagement.
The Man Up Conference is sponsored by UVI, the VI Department of Education and other Virgin Islands businesses. It is an initiative of UVI's Brothers with a Cause student organization, which is aimed at motivating young male students to pursue a college education. Register at manup.uvi.edu or from this direct link. For more information contact Dr. Haldane Davies at (340) 693-1004 or send email to hdavies@uvi.edu.