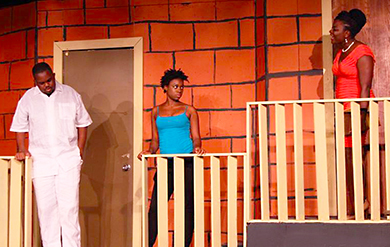 This year will mark the 25th anniversary of the production of "Heaven," a play about love and deception set in a discothèque called Heaven.
"Heaven" premiered last Thursday at UVI's Little Theatre. This week audiences can see encore performances at 8 p.m., April 7-9, at the UVI's Little Theatre on St. Thomas. On St. Croix, "Heaven" will be performed at 8 p.m. on April 23 and 24 at the James C. Savage Theatre at the Good Hope School.
Written and directed by UVI Associate Professor of communications David Edgecombe, the play features UVI students, a UVI senior actor and a UVI lecturer. "Heaven" first premiered at the University in the spring of 1991, and its popularity has allowed it to become a staple of UVI's theater production.    
"It remains a timely play that deals with issues faced by two young people growing up in Caribbean society," Edgecombe said.
In the play, characters Wayne and Cynthia put everything on the line to win the prize money in a dance competition being held at a discothèque called Heaven. But two far more powerful men, Sam and Tony, with his wife Dilys, are also in Heaven weaving their own plans for Cynthia. Deception, temptations, revelations, and pain run amok in Heaven, leaving none unscathed.
For its 25th anniversary, the play will be performed on both the St. Thomas Campus and the Albert A. Sheen Campus on St. Croix, thanks in large part to the advent of the Virgin Islands Literary Festival on St. Croix.
Last year, Edgecombe and his cast performed the play "Hubert Harrison." Before last year, UVI plays were only performed in St. Thomas.
This year in St. Thomas at the UVI Little Theater, the crew will be preforming under a new lighting system, after the old lighting system broke last year. The new lighting system sends a message that UVI is looking to invest in its arts and theatre programs.
"We want to see a real revival and flourishing in the arts at UVI, in the community and in the Caribbean," Edgecombe said.
Tickets are on sale at the UVI Bookstore and UVI Humanities Office. Tickets are $20 for adults and $7 for students.
The Cast of the March-April 2016 performance
Wayne – Khalarni Rivers 
Cynthia – Nyaila Callwood
Sam – Jerome Kendall
Tony – Paul Maynard Jr.
Dilys – Nastassia Jones