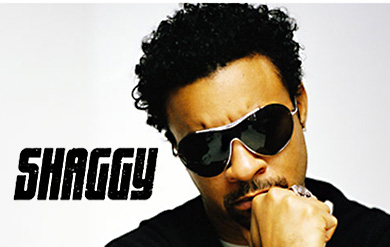 Grammy-award winning, mega superstar Shaggy will bring his cool reggae dancehall fusion to the Reichhold Center for the Arts at 8 p.m. on Saturday, May 21.
With more than two decades in the music industry, Shaggy is one of the pioneers in bringing reggae dancehall music to the forefront in pop culture. His career first blossomed in 1993 with his hit "Oh Carolina," and in 1995 with "Mr. Boombastic." In 2000, Shaggy released the album "Hot Shot," which was a certified six time Platinum in the United States. The album featured the single "It Wasn't Me" and the album hit number one on the Billboard 200 and the U.K. albums chart.
Shaggy is widely regarded as one of the most successful reggae artist of our time, with his commanding presence, distinctive voice – recognized throughout the world and titles such as, artist, businessman, philanthropist and Grammy Award winner.
 "We invite the public to celebrate our 37th season finale with us and enjoy this amazing performance from one of the world's greatest talents," said Denise Humphrey, Reichhold Center for the Arts interim director. "Get up and dance, sing along and enjoy the Reichhold experience."
Shaggy's performance will close out a spectacular 37th season, which started out in October with a performance from Grammy Award Winning Jazz Trumpeter Arturo Sandoval. His performance gave Virgin Islands' students the opportunity to perform with a legend on the Reichhold Center stage. Then in November, the Reichhold presented Momix Botanica for the Thanksgiving and Family Series performance, which patrons gave rave reviews. Reichhold kicked off the New Year with a 90's throwback sold out performance by Keith Sweat and SWV. Gospel legend Donnie McClurkin gave a spiritually uplifting sold out performance in February. In March the center hosted the Printz Dance Project, a San Francisco based performance group with their artistic piece Hover Space; in which dancers perform atop a hovering stage. "There was no doubt the season had something for everyone," said Humphrey. "Shaggy's performance will be the perfect culmination to an amazing season."
The Reichhold Center's 37th season is sponsored by International Capital and Management Company, VI Lottery, Innovative, Marriott Frenchman's Reef Resort, Tropical Shipping and the VI Council on the Arts. The Reichhold Center for the Arts is the flagship performing arts center for the University of the Virgin Islands.
For tickets, come to the Reichhold Center's Box Office on UVI's St. Thomas Campus, call (340) 693-1559, or visit www.reichholdcenter.org.  For inquiries into sponsorship and Stagebill advertising contact Ian Turnbull at ian.turnbull@uvi.edu  or (340) 693-1554.