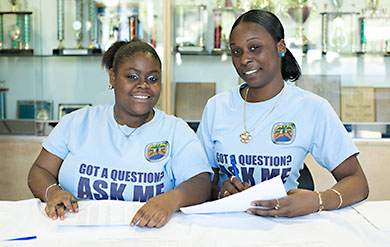 In an effort to create a seamless orientation process, the University of the Virgin Islands will provide an opportunity for new students on the St. Thomas Campus to register and participate in early orientation sessions this summer, well in advance of the 2016 Fall semester.  Students will have the opportunity to attend early orientation from 9 a.m. to 1 p.m. on July 12, or from 1 p.m. to 5 p.m. on July 13, in the Sports and Fitness Center on the St. Thomas Campus.
 "Our new early orientation and registration will ensure that new students register with ease and that their first campus experience is productive and fun," said Verna Rivers, dean of students on the St. Thomas Campus. "I am confident this initiative will provide a successful transition to the Buccaneer way of life. At UVI we continue to work hard to enhance the student experience and increase student satisfaction."
Students who take advantage of early registration will have the convenience of personalizing course schedules, completing financial aid, connecting with resources, touring the campus, receiving academic advice and taking their ID photos. UVI student orientation leaders will be on hand to guide students on each step of the way. Parents of the new buccaneers can also participate in the "Support Your Buccaneer" session to gain information about University processes. 
"The Registrar's Office is prepared to welcome all new students to the University of the Virgin Islands this fall," said Monifa Potter, UVI registrar. "I urge all new students to take advantage of this early orientation and registration option. It is said that the early bird gets the worm, but getting an early start on your college preparation will enhance your University experience."
Students are welcome to contact the Dean of Students' Office at (340) 693-1120 or the Registrar's Office on the St. Thomas Campus for more information at http://registrar@uvi.edu or (340) 693-1160.