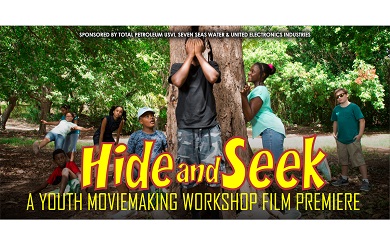 The Reichhold Center for the Arts will host its first ever Youth Arts Festival this summer combining the UVI Music Camp, the School of Visual Arts and the Youth Moviemaking Workshop. The festival will be held on Saturday, July 30th at 6p.m at the Reichhold Center.
The Reichhold Center Youth Moviemaking Workshop is partnered with the UVI Music Camp, under the direction of Professor Austin A. Venzen, and the School of Visual Arts and Careers under the leadership of Ms. Barbara Callwood.  This year the UVI Music Camp will conduct a music concert through sunset when the movie premiere begins and the School of Visual Arts will display student's artwork throughout the evening.  "We want to encourage support for all summer arts programs and this is one way to bring the various art forms together, in one big festival" said interim director, Denise Humphrey.  "This is our first experiment.  We hope to grow this activity in the future."
The Youth Moviemaking Workshop will debut "Hide and Seek" as their tenth movie project since the program began in 2001. "Hide and Seek" is about a group of kids who go on a camping trip and decide to play hide and seek deep in a forest that is supposedly haunted.  While hiding, each camper experiences a life changing moment that is brought about by some supernatural encounter which alters their perception of each other. 
The summer workshop challenges youth between the ages of 11 – 16 to be inquisitive and creative as they learn all aspects of film making. Within the first two weeks students are taught the production process from camera operations and audio techniques to script writing and team building skills.  During the last three weeks of the program, students produce a final project which is presented at a public screening at the Reichhold Center.
Reichhold Center's Youth Arts Festival is a free event. The summer program is made possible through support from Total Petroleum USVI, Seven Seas Water, United Electronics Industries and the VI Council on the Arts. For inquiries into sponsorship and other Reichhold youth initiatives contact Denise Humphrey at dhumphr@uvi.edu  or (340) 693-1550.