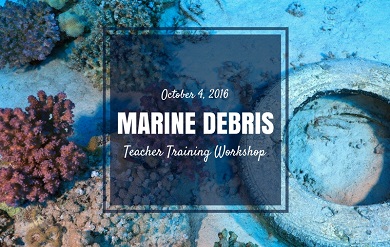 Researchers at the University of the Virgin Islands were awarded $99,411 from the National Oceanic and Atmospheric Administration's (NOAA) Marine Debris Program to fund marine debris education and outreach programs on the islands of St. Thomas and St. Croix.
The goal of the 18-month project is to reduce land-based sources of marine debris in the U.S. Virgin Islands through educational and outreach programs that engage territory educators, school children, UVI Marine and Environmental Science Masters (MMES) students, and partners from the Virgin Islands Marine Advisory Service (VIMAS), Virgin Islands Waste Management Authority, Virgin Islands Department of Planning and Natural Resources, Southern Utah University, and Oregon Sea Grant.
"This is an exciting opportunity for the U.S. Virgin Islands," said project leader Dr. Kristin Wilson Grimes, assistant professor of watershed ecology at UVI and director of the Virgin Islands Water Resources Research Institute.  "Most marine debris in the ocean and along our shorelines comes from land-based sources, which means that we can prevent it."
The program kicks off with an educator workshop on Oct. 4, Educators in the territory will be introduced to new marine debris curricula and other educational resources. "Marine debris is a complex global problem," said Cait Goodwin, a project partner from Oregon Sea Grant. "This project provides students and teachers with opportunities to explore how the marine debris problem is experienced in the USVI, and then empowers students to engage in stewardship activities that enable them to make a difference in their communities."
More than $20,000 will be available for a year-long, community-based projects that will involve students, teachers, UVI MMES students and community partners to reduce land-based sources of marine debris. "This opportunity will greatly expand our ability to develop innovative strategies for reducing the amount of trash found on our beaches and coasts," said Howard Forbes Jr., St. Thomas coordinator for the Virgin Islands Marine Advisory Service (VIMAS).  VIMAS St. Croix Coordinator Marcia Taylor has been coordinating beach clean-ups on St. Croix for more than 20 years. She too is excited about this grant, which will allow her to expand clean-ups into guts and sites not usually reached.
"This is a unique program aimed at educating the public on how the waste disposal choices we make as a community affect one of our most vital resources - the marine environment," said Dr. Sennai Habtes, UVI assistant professor of oceanography and a project team member. "I'm excited to be part of this program because we will use student - and community-led projects to educate the public on how marine debris is harming our oceans, and what we can do to stop it."
For more information about this project, or to register for the Educator's Workshop, please visit: http://www.uvi.edu/research/epscor/education/eform.aspx