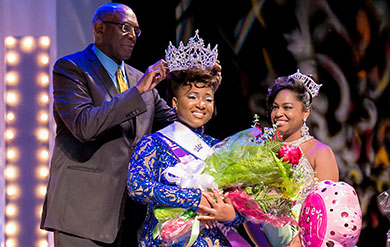 Members of the media are invited to cover and photograph the University of the Virgin Islands student ambassador, Miss UVI Che-Raina Warner to congratulate her on winning the 2016 Miss NBCA Hall of Fame on Saturday in Atlanta, Georgia. Warner is the second UVI queen to bring the crown home in three years. Che'Raina competed among 73 other contestants from other HBCU's. Che'Raina is a senior communications major at UVI.
An invitation is extended to the entire Virgin Islands community in welcoming her home as she made the University proud of her accomplishment.
            Miss UVI Elisha Thomas made history when she won the title of Miss National Black College Alumni Hall of Fame in 2014.  
            What:             The Arrival of Miss UVI Che'Raina Warner – Miss NBCA Hall of Fame
            When:             Monday, Sept. 26
            Where:           Cyril E. King Airport - St. Thomas
            Time:              4 p.m.                           
            Contact:         Public Relations (340) 693-1057 or pr@uvi.edu