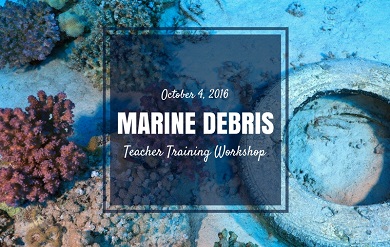 Members of the media are invited to cover and photograph the University of the Virgin Islands
Marine Debris Teacher Training Workshop where educators in the territory will be introduced to new marine debris curricula and other educational resources.  Virgin Islands researchers were awarded $99,411 from the National Oceanic and Atmospheric Administration (NOAA) Marine Debris Program to fund marine debris educational and outreach programs on the islands of St. Thomas and St. Croix. Teachers from both school districts have been selected to participate.
The highlight of the program will be at 9:45 a.m. when beach boxes will be handed out to teachers, bringing the beach to the classroom.
For more information please contact Dr. Kristin Wilson Grimes, assistant professor of watershed ecology at (340) 693-1392.
            What:             Marine Debris Teacher Training Workshop
            When:             Tuesday, Oct. 4
            Where:           Administration and Conference Center – St. Thomas Campus
                                     First-floor Conference Room
            Time:              8:30 a.m. - 4:30 p.m.
                                    9:45 a.m. Photo-Op: Bringing the Beach to the Classrooms                           
            Contact:         Public Relations (340) 693-1057 or pr@uvi.edu