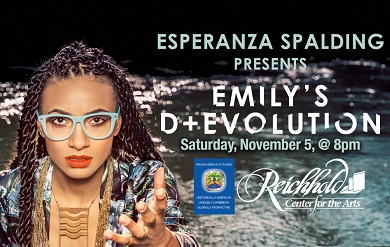 Four time Grammy Award winning Jazz Bassist, Composer and Vocalist Esperanza Spalding will be performing live on the Reichhold Center for the Arts stage on Saturday, Nov.5. Join Reichhold for the second performance of their 38th "Season of Milestones" and enrich your senses with musicianship from a jazz prodigy.
"We are truly lucky to have such a high quality performer to accept Reichhold's invitation to perform and we look forward to a show that is sure to leave an indelible mark on our patrons," said Reichhold Center's Interim Director Denise Humphrey.
Previously performed at the Oscars, Grammys, the Nobel Prize ceremony and several times at the White House, by anyone's measure, Spalding's accomplishments at 31 years of age have already eclipsed those of artists half a century older. In the past decade of her illustrious career she has continually and brilliantly combined genres, pushed boundaries, and created groundbreaking work.
Opening for Esperanza Spalding is the ever popular Lourdes & the Switch, a local five piece band that plays at various hotels and restaurants across the U.S. Virgin Islands. Their fusion of modern rock with a hint of soul and groove has propelled them to being one of the top acts here in our community. Traditionally, Reichhold pairs top local acts with world class entertainers and Lourdes & the Switch is a great addition. 
"Upon entry into Reichhold there will be live music provided by our local High School Jazz ensembles, giving the evening a well-rounded experience," said Reichhold Center Marketing Manager, Ian Turnbull.
The Reichhold Center's 38th season is sponsored by International Capital and Management Company, VI Lottery, Innovative, Marriott Frenchman's Reef Resort, FirstBank and the VI Council on the Arts. As well as event sponsorship from TIA Associates and BVI Tourism. The Reichhold Center for the Arts is the flagship performing arts center for the University of the Virgin Islands.       
For tickets, visit Reichhold Center's Box Office or call (340) 693-1559. For more information on the Reichhold Center and the 38th season or to purchase tickets visit www.reichholdcenter.org. For inquiries into sponsorship and Stage bill advertising contact Ian Turnbull at ian.turnbull@uvi.edu or (340) 693-1554.